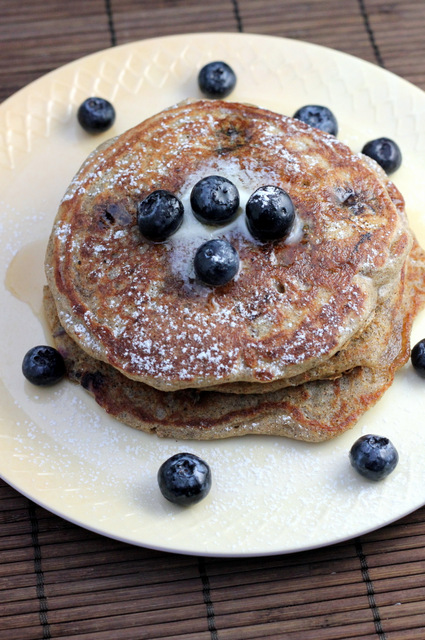 I've eaten and shared a lot of pancakes with you lately. I'm realizing that much like tacos or pizza there are infinite ways to make them. Some better than others. But many delicious. So it's OK to have a stack of pancake recipes. Especially if they're are irresistible, each in their unique way.
Buckwheat has been on my to-cook-with list lately. (I don't actually have a list. I'm not that organized. I just keep thinking about something and soon enough get around to making it.) Perhaps I've been inspired by my brother's (who is no health food fanatic, trust me) recent obsession with this healthy grain. He spent 2 years on a mission in Ukraine and came back with a love of buckwheat and beets. One time when we were all home he cooked us up a pot of gritty unsweetened buckwheat for breakfast. He was shoveling it down but no one else would touch it. (Except Clara who at that age ate anything.) His buckwheat porridge wasn't completely horrible- just missing something. Butter? Perhaps sugar?
Which brings us to buckwheat pancakes. With blueberries- because it is still summer and blueberries make life in general better. This recipe uses a combination of buckwheat and whole wheat. You could use all buckwheat I suppose but they would be very strong- definitely not suited for beginners. The sugar (or honey) is optional- I tried them with and without and liked them better a bit sweeter. (Especially if you're not planning to douse them in syrup.) I always recommend actually using buttermilk. All the substitutions I've tried never yield as good a result. And then you can choose between coconut oil and butter. I went with the coconut oil and didn't regret it. Blueberries in the batter. More blueberries on top. You can't go wrong.
p.s. Borscht is delicious. He was also right about the beets.
Blueberry Buckwheat Pancakes
INGREDIENTS
3/4 cup buckwheat flour
1 1/4 cups white whole wheat flour or whole wheat pastry flour (I added a few extra Tbsp. because my batter was very thin)
1 1/2 tsp. baking powder
1/2 tsp. baking soda
1/4 tsp. salt
2 Tbsp. sugar or honey (optional but recommended)
2 large eggs
2 1/2 cups buttermilk
2 Tbsp. coconut oil or butter, melted
1 tsp. pure vanilla extra
1-2 cups fresh blueberries
extra butter, for greasing the pan and serving
maple syrup, powdered sugar, fresh fruit, for serving
DIRECTIONS
1. In a large bowl, whisk together the flours, baking powder, baking soda, salt, and sugar (if using).
2. In a separate bowl, whisk together the eggs, buttermilk, coconut oil or butter, vanilla, and honey (if using). Add the wet ingredients to the dry and stir until just combined (lumps are OK).
3. Preheat a large skillet or griddle to medium heat. Grease with cooking spray or rub with butter.
4. Pour batter by 1/4-cup-full onto preheated pan (making sure to leave space between the pancakes as they will spread) and sprinkle blueberries on top. Cook until the bottoms are golden brown and bubbles are forming on top, about 3 minutes. Flip and cook for several minutes on the other side until golden and cooked through. (Cooked pancakes can be kept warm in a 250 F oven while you are cooking the rest.)
5. Serve warm with butter, maple syrup, powdered sugar, fresh blueberries, etc.
Serves 4-6.
(Adapted from Williams-Sonoma via The Curvy Carrot)