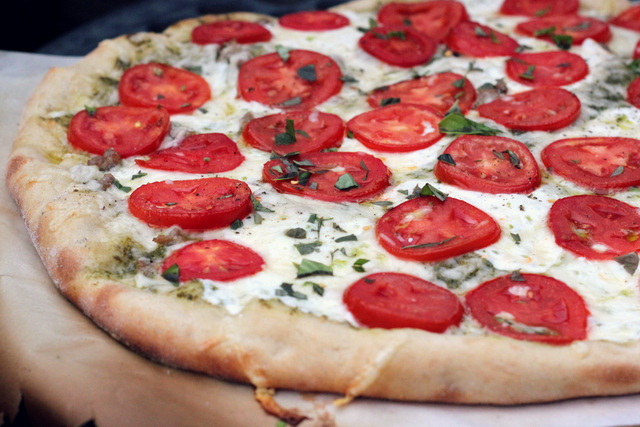 I created this pizza dough recipe almost five years ago and have been using it regularly ever since. Haven't you noticed? I post pizzas constantly. (There are, um, more than 30 pizzas in the index!!) Obviously, we love it! I decided it was time for a few updates (I just streamlined some of the instructions) and to be re-shared.
If you've never made your own pizza dough, you must! A puffed and chewy homemade crust is worth the little effort. I promise it's easier than you think. And after a few times it'll be second nature- you'll probably even have the recipe memorized. If you've never worked with yeast, don't be intimidated- this recipe is a great place to start.
A few notes before you begin: (As always, if you have any questions, leave them in the comments section and I will try to respond to you as soon as possible.)
on yeast– Here I use active dry (I've never tried this dough with instant yeast, if I do someday I'll update with the results), which needs to be proofed in warm water before adding the other ingredients. Adding the sweetener (honey or sugar) to the water just speeds up the process as yeast thrives on sugar. Water temperature is important: too hot and you'll kill your yeast, too cold and it won't activate properly. You can use a thermometer to be exact, but I usually test the water with my finger and aim for what feels hot but not scorching (if I have to pull it out quickly, it's too hot).
sugar vs. honey– Either will work. I just prefer the flavor and health benefits of honey. Before my daughter turned 1 made it with sugar and hardly noticed a difference.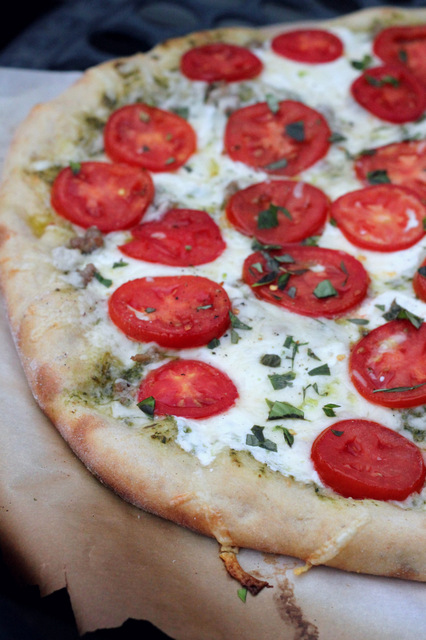 about the flours– Why bread flour? Because it has a higher gluten content and creates a chewier puffier crust. All-purpose can be used instead but the final result won't be quite the same. Why white whole wheat flour? Well, because I like to use at least some whole wheat flour for nutrition and white whole wheat is ground finer resulting in a less dense texture and lighter taste. You can use regular whole wheat flour and the dough will be a bit tougher. You can use all white flour (bread or all-purpose) and you'll just need to add more of it during the kneading process (white flour doesn't absorb as much water as whole wheat).
pizza stones– To achieve a perfectly puffed, crispy-bottomed crust you need to use a pizza stone. Round or square- I don't care as long as it's HOT. Preheat to 450 F (or even 500 F if your oven runs cool) for a good 30+ minutes before baking. (I've detailed your options for transferring your crust to and from the oven in the directions below.) And remember to carefully follow any directions for cleaning your stone. Soap should not be used- only hot water.
letting the dough rest– This step might sound unnecessary and inconvenient, but I promise it makes a huge difference. After your dough rises and you punch it down, let it rest for at least 5, preferably 10 minutes before forming your crust. I've been in a hurry many times and immediately tried to shape my crust and always end up tearing holes in the dough. I don't know the science behind it but letting the dough rest makes it stretchy and pliable and so much easier to work with.
making the dough ahead of time: If you need to make your dough ahead of time (earlier in the day) it can be refrigerated after step 4 (placing it in a bowl and covering it) and then taken out of the fridge to warm up about an hour before you'll be using it. It will rise slightly in the fridge, but needs to warm to room temperature and finishing the rising process before it is ready to handle. I've never refrigerated it overnight and don't think it would hold up very well. I have heard that you can freeze pizza dough for later use, but haven't tried it yet myself.
Alright, that's it.
Oh, if you're wondering about the pizza pictured above, I'll be sharing that recipe next!
Honey Whole Wheat Pizza Dough
INGREDIENTS
1 cup warm water (100-120 degrees F, over 120 degrees will kill your yeast)
2 tsp. honey (or sugar)
2 tsp. active dry yeast
1 cup bread flour (+ approx. 1/4 cup more for kneading)
1 cup white whole wheat flour
1 tsp. sea salt
2 Tbsp. extra virgin olive oil
DIRECTIONS
1. In a glass or plastic bowl (metal can negatively affect yeast), dissolve honey in warm water. Add yeast and let sit (at least 10 minutes) until yeast is active and bubbly.
2. In a large mixing bowl, whisk together all purpose flour, white whole wheat flour, and salt. Create a well in the center.
3. Once the yeast mixture is ready, pour it into the well in your flour mixture bowl. Add the extra virgin olive oil. Using a spatula and then your fingers, mix the dough until it pulls away from the side of the bowl.
4. Knead the dough on the counter top, adding up to 1/4 cup more flour just until it is no longer sticking to the counter and has a smooth texture. (You can brush a little olive oil onto your fingers for the kneading process.)
5. Place the dough in a greased bowl and cover. Let rise until doubled in size, about an hour. You can test if your dough has risen enough by poking it with a finger. If the imprint stays, then the dough is ready.
6. Deflate the dough into a ball, and let it rest on your counter for at least 10 minutes before you create the crust.
7. Preheat the oven and pizza to 450 degrees F. This will take 20+ minutes. A scorching hot pizza stone is the key to getting that puffed evenly cooked crust.
8. To shape your crust you will simply use your hands and gravity. DO NOT use a rolling pin- it will press out all of the air that has formed in your dough. Take the ball of dough in your hands and simply begin pulling it around the edges. It should start to stretch easily. Rotate it around your first making sure you are stretching each side evenly, so that you have a round crust. The middle will be fairly thin, and you want to leave the edges thicker so they will puff up.
9. Now you have several options. First is to open the preheated oven, sprinkle with stone with semolina flour or cornmeal, and place your crust directly on the stone. Then add your sauce and toppings and close the oven. This allows a fair bit of heat to escape the oven though so it is not ideal. The second option is to place your "rolled" out crust on a sheet of parchment paper (dusted with cornmeal). You can then add the sauce and toppings. Carry the pizza to the oven and place it on the stone (parchment paper stays beneath it). This makes removing the pizza from the oven easy as well-you simply pick up the parchment paper! (Be very careful though, as it sometimes rips.) Last of all, if you own a pizza peel, you can place your crust directly on the peel (dust it with cornmeal first) or your parchment paper directly on the peel, add your sauce and toppings, then use the peel to slide the crust or parchment onto the pizza stone. Once it is cooked you will slide it off the stone back onto the peel. If you are cooking multiple pizzas the second and third options are best, as they do not require you to remove the stone from the oven and it will stay hot.
10. Bake your pizza for approximately 10-12 minutes, until the crust is puffed and starting to turn golden brown, and the cheese is melted and bubbling.
11. Once you have removed your pizza from the oven, let it rest for a few minutes before slicing. Enjoy!
Makes 1 large pizza.
(an A Hint of Honey original)