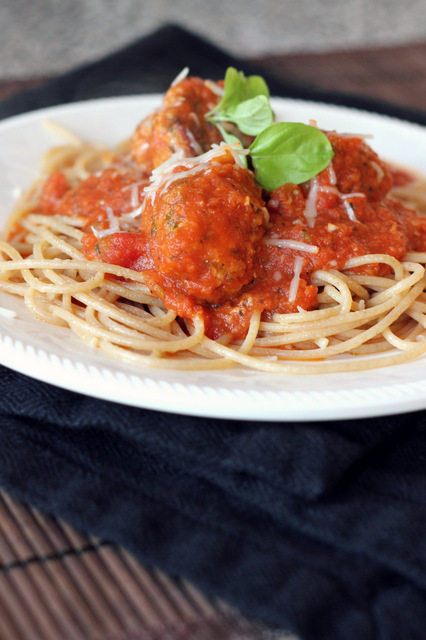 Two things I'd like to complain about this morning (because it's hard to always be cheerful): My toddler isn't sleeping- again. Which means neither are the rest of us. (This isn't unusual, but more and more frustrating with age.) And it already feels like winter. What happened to fall, Chicago? I already know it's going to be cold 'till June. Couldn't you hold off on the misery a little bit longer? This is a great city. But let's be honest, the weather sucks.
Now that I'm done whining, let's talk about meatballs. With turkey instead of beef. You don't need beef to make a great meatball. These are juicy and flavorful and I'd actually choose them over the classic. And they don't have to accompany pasta. You could serve them on a crusty baguette as a meatball sub or just with toast for soaking up the sauce. Spaghetti squash instead of noodles is a low-carb option. If, like me, you're in a bit of a pre-winter slump, make a batch of meatballs. They'll warm you right up.
Turkey Meatballs with Spaghetti Sauce
INGREDIENTS
for the sauce:
2 Tbsp. extra virgin olive oil
1/2 yellow onion, diced
2 cloves garlic, minced
1 carrot, peeled and grated
1 tsp. dried oregano
handful fresh basil (about 1/4 cup) or 1-2 tsp. dried
1/2 tsp. finely ground fennel seeds (optional- I didn't have any and omitted it this time)
28 oz. crushed tomatoes
1 bay leaf
pinch red pepper flakes (to taste)
salt and freshly ground black pepper, to taste
for the meatballs:
1/2 yellow onion, finely diced
2 cloves garlic. minced
1/2 cup plain dried breadcrumbs
2 Tbsp. fresh parsley, chopped
2 Tbsp. fresh basil, chopped
1/4 cup freshly grated Parmesan
1 Tbsp. tomato paste
1 Tbsp. ketchup (optional- adds a touch of sweetness)
1 large egg
1 lb. ground turkey (I use ground turkey thigh, dark meat is preferred as turkey breast is too dry)
3/4 tsp. kosher salt
1/4 tsp. freshly ground black pepper
2 Tbsp. olive oil, for browning
8-12 oz. spaghetti noodles, cooked according to package directions
freshly grated Parmesan, for serving
DIRECTIONS
1. To make the sauce, heat the olive oil in a large deep skillet over medium heat. Add the onion and carrot and cook until softened, about ten minutes. Stir in the garlic and cook another minute. Stir in the oregano, basil, fennel (if using), and crushed tomatoes. Add the bay leaf, a pinch of red pepper flakes, and season with salt and freshly ground black pepper. Bring to a boil; reduce heat, and simmer 15-20 minutes, stirring occasionally, until the sauce thickens slightly. Season to taste with salt and freshly ground black pepper and a pinch of sugar (if needed). If you want a smoother sauce you can puree part or all of it with a blender or food processor.
2. While the sauce is simmering, make the meatballs: In a large bowl stir together the onion, garlic, breadcrumbs, parsley, basil, Parmesan, tomato paste, ketchup (if using), egg, salt, and pepper. Add the ground turkey and, using your hands, gently mix to thoroughly combine. Form into 1 1/2 inch balls and place on a large plate or baking sheet.
3. To brown the meatballs, heat 2 Tbsp. olive oil in a large skillet over medium-high heat. Add the meatballs (I had to do them in two batches) to the pan, making sure not to overcrowd them. Cook several minutes on each side, until browned.
4. Once the sauce is ready and all the meatballs are browned, add the meatballs to the sauce, cover, and simmer over medium-low heat until the meatballs are cooked through, 15-20 minutes. (While the meatballs are cooking you can boil your pasta.) Season to taste with salt and freshly ground black pepper. Serve over spaghetti with freshly grated Parmesan.
Serves 4.
(Adapted from Food Network and Food Network)