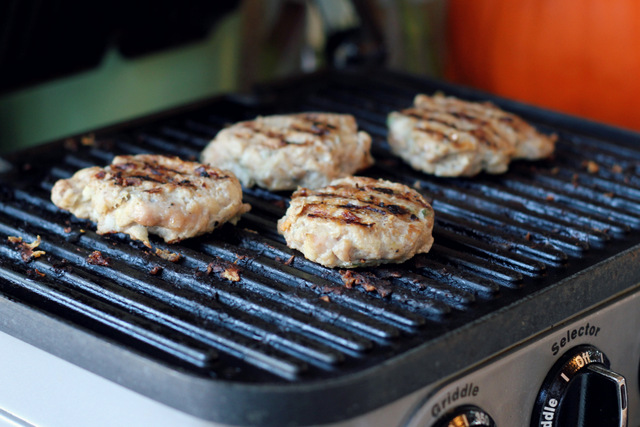 Store-bought chicken (and turkey) sausage is OK. I've tried quite a few varieties and they'll do. (Especially when put on pizza. Everything is good on pizza.) But I don't get excited about eating them. They usually taste too, uh, healthy and a little bit funky. (I can't think of a better way to describe it. Something just tastes abnormal.) So when I saw this recipe for homemade chicken sausage patties I had my doubts. After reading over the ingredients it sounded too simple: throw together some ground chicken, an apple and shallot (why not garlic, too) and a few seasonings. That's it?! I could at least try. Worst case, it's just another failed recipe that gets tossed aside.
Well, you guessed it- they turned out delicious! I made these baby sausage patties to eat with those pumpkin spice pancakes and they almost stole the show. They taste more like sausage than any packaged brand I've tried. So much better, I'm telling you! And really as easy as promised.
Sage and Apple Chicken Sausage Patties
INGREDIENTS
1 lb. ground chicken (dark meat preferred- I used thigh)
1 large apple, peeled and shredded, excess moisture squeezed out (I used a Fuji)
1 clove garlic, minced
1 small shallot, minced
1 large egg
1/4 tsp. allspice
3/4 tsp. kosher salt
1/4 tsp. freshly ground black pepper
2 Tbsp. fresh sage, chopped
DIRECTIONS
1. In a large bowl, stir together all ingredients until thoroughly combined (I like to use my hands). Form into 16 (or so) round patties.
2. Preheat a grill pan or large skillet to medium-high heat. Lightly coat with cooking spray. Cook patties for several minutes on the first side, until browned. Flip and cook on the second side until browned and cooked through. Repeat with the remaining patties.
Makes approx. 16  small patties.
(Adapted from Gourmet)