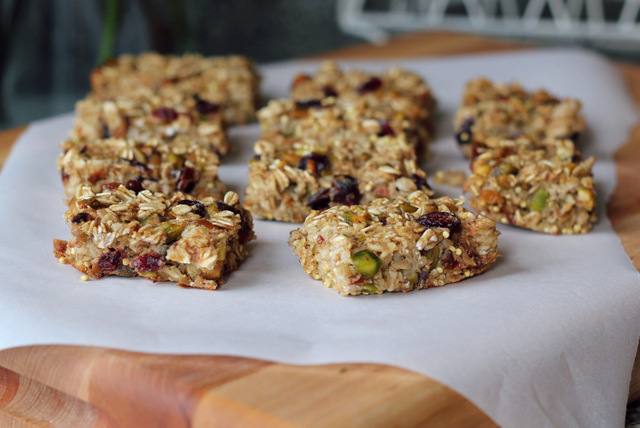 It's rare that I cook specifically for Clara. At 18 months she eats everything we do- although some things with more enthusiasm than others. But since the very beginning (we followed a "baby-led weaning" approach and loved it) I've made it a point to prepare and eat only one meal, together. Snacks are the exception. I do bake special "treats" just for her. We go through our fair share of Cheerios, but I'd much rather have her enjoy something homemade, with familiar, natural ingredients than anything out of a box.
So we make muffins. (She participates now, which I both love and dread. Oh, the mess…) We stuff them full of healthful things like pumpkin/bananas/carrots/zucchini, millet or flax, dried fruits and nuts. Always with whole wheat and only a little sugar (usually maple syrup or honey). And she we gobble them up.
Last time we ran out of muffins I decided to try these oatmeal bars instead. What appealed to me about this recipe: it's simple (throw all the ingredients together, 30 minutes in the oven and you're done), and freezable (they reheat easily in the microwave or at room temperature), and so much better for you than the typical granola bar. Oh, and turns out they taste great too! They're soft and chewy and cinnamon-y. And slightly sweet (with only a tablespoon of honey). And completely customizable- I've listed some suggestions below, but I'm thinking shredded coconut, peanut butter, and chocolate chips should be considered as well.
I don't usually calculate calories, but I thought in this case you'd be interested in numbers. Estimates are listed below. (I've found this site extremely helpful for calculating caloric content of homemade recipes… should the need arise.)
Soft Baked Oatmeal Bars
INGREDIENTS
1 1/2 cups rolled oats
1/2 cup chopped nuts (walnuts, almonds, pistachios, peanuts, etc.) (I used pistachios)
1/2 cup dried fruit (raisins, currants, cranberries, dates, figs, etc.) (I used a blend of dried fruits)
2-4 Tbsp. seeds (sunflower, pumpkin, flax, millet, etc.) (I used 2 Tbsp. millet)
1 tsp. cinnamon
1/4 tsp. sea salt
1 Tbsp. honey (optional- more or less to taste)
1 1/4 cups skim or low-fat milk
1 egg
1 tsp. pure vanilla extract
DIRECTIONS
1. Preheat oven to 350 F. Line a 9×9 baking pan with parchment paper or lightly coat with cooking spray.
2. Mix dry ingredients in a large bowl. Mix wet ingredients in a separate bowl. Add wet to dry and stir to combine. Pour into the prepared baking dish.
3. Bake in preheated oven for about 30 minutes, until the center is set and the edges are golden brown. Cool on a wire rack before cutting into bars.
Approximate caloric value (calculated using low-fat milk, 1 Tbsp. honey, and 2 Tbsp. millet seeds):
9 bars= 132 calories, 5 g fat, 5 g protein per serving
12 bars= 100 calories, 4 g fat, 4 g protein per serving
Makes a 9×9 pan bars.
(Adapted from Kath Eats Real Food)