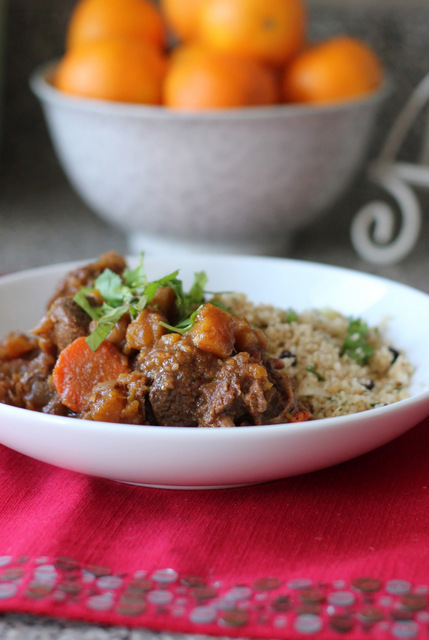 I've never been there, but I'm obsessed with Morocco- with its architecture and textiles, its culture, and its food. It's on the top of the list of "places I dream of someday going", but for the meantime, I satisfy myself by recreating the cuisine at home. Tagine, traditionally cooked in a clay pot called a tagine, is a heavily-spiced (as in many spices, not spicy- although it could be) meat and vegetable stew. The other tagine recipe I've shared features chicken and chickpeas and dried apricots. Most tagine recipes incorporate dried fruits and/or sweeteners such as honey to balance out the savory notes. (I suspect it's what makes them so amazing!) This time I went a little heartier for winter with beef and butternut squash.
I don't own a tagine pot and you don't need one either. A slow-cooker will do the hard part for you. If you can spend a few minutes in the morning (or the night before) browning the beef, softening the onion, and toasting the spices before throwing them all together, the scent of Marrakesh will lure you in when you return home for dinner. Serve with spiced couscous (accompanying recipe will be posted soon) and roasted cauliflower or a light salad.
I almost made this dish for a holiday dinner party. And then last minute wimped out and just served appetizers and dessert instead. My guests missed out, but I was grateful because we ate tagine all week long. The longer it sits the better the flavors develop. And it's much too delicious to grow sick of.
Beef and Butternut Squash Tagine
INGREDIENTS
2 lbs. beef stew meat, trimmed and cut into 2-inch cubes
1 Tbsp. olive oil
1 large yellow onion, chopped
4 large cloves garlic, minced
2 Tbsp. ras al hanout (purchased or try this recipe)
2 tsp. sweet paprika
dash crushed red pepper flakes (optional)
3/4 tsp. sea salt + extra to taste
1/2 tsp. freshly ground black pepper + extra to taste
14 oz. can diced or crushed tomatoes
1/2 cup low-sodium chicken or beef broth (I was out and used water with an additional 1/4 tsp. salt instead)
2 Tbsp. honey
1 cinnamon stick (or 1/4-1/2 tsp. ground cinnamon)
2 carrots, peeled and sliced
1 medium butternut squash, peeled, seeded, and chopped (about 5 cups chopped)
for serving:
fresh cilantro, chopped
sliced almonds, toasted
DIRECTIONS
1. Heat olive oil in a large skillet over medium-high heat. Pat the beef dry and season it with salt and pepper. Sear the beef cubes for several minutes on each side, until a golden crust forms (you don't want the meat to be crowded in the pan so this might need to be done in two batches). Remove the meat from the pan and place it in the slow cooker.
2. Add the onion to the pan and cook for about five minutes, until softened. Reduce the heat to medium, stir in the garlic, and cook for another minute. Add the ras al hanout, paprika, pepper flakes, salt and freshly ground black pepper and cook, stirring constantly, for another minute. Stir in the tomatoes, broth, and honey, scraping the bottom of the pan to deglaze. Simmer for several minutes before adding to the slow cooker with the beef. Add the cinnamon, carrots and butternut squash to the slow cooker as well and stir everything together.
3. Cook on high for approximately 5-6 hours or on low for approximately 8-10 hours until the meat is fork tender. (I actually cooked mine on high for the first 4 hours and then on low for 2 more hours.) Serve warm over couscous and top with chopped cilantro and toasted almonds. (NOTE: If you add the butternut squash at the beginning it will be very soft- in fact a portion of it seems to disintegrate into the sauce- by the time the meat is done cooking. If you prefer the squash to better hold its shape you could add it partway through the cooking time.)
Serves 8.
(Adapted from Williams and Sonoma and Food.com)