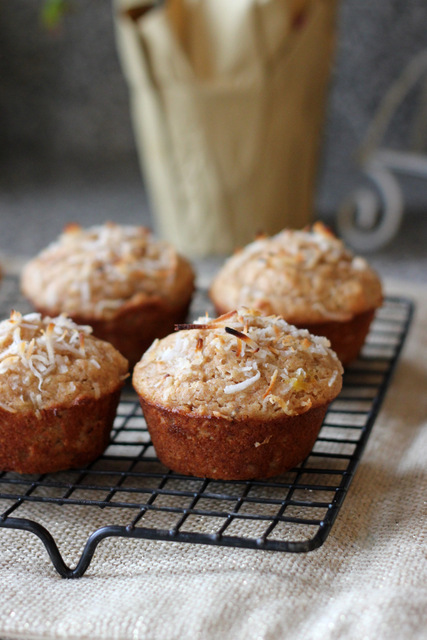 I can't remember for sure (as it has been 20+ years) but being a toddler must be tough. Learning to move and communicate with a tiny awkward body. Constant tumbles. Constant rejection. Constantly sick and snotty. It must be frustrating figuring out a new world. Finding out that world isn't fair.
Most of my day revolves around a miniature being who is so full of life and energy and so fed up with it at the same time. One minute I'm being smothered in hugs and kisses and the next I'm ducking swinging arms and legs amidst wails of despair. (It must be diaper changing time again.) She's so sweet and innocent and meanwhile clever and mischievous and I never know what I'll get.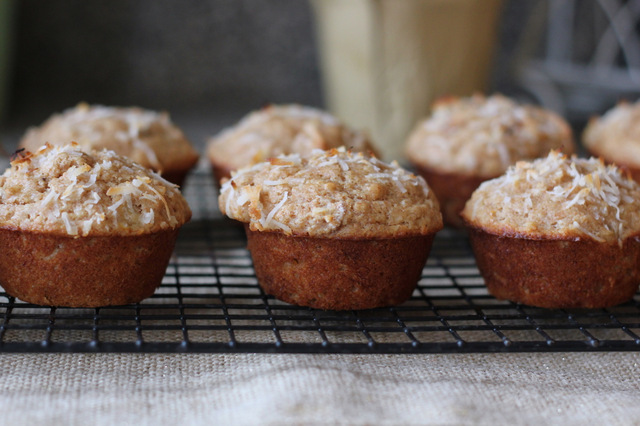 I consider myself a pretty nice mama. I patiently walk in to her bedroom in the middle of almost every night, to give her a hug and a kiss, a sip of water, and lay her back down to sleep. I cook her breakfast, lunch, and dinner and try my hardest to not throw a tantrum when she doesn't eat. I spend hours at the park and on the floor playing blocks and drawing beside her and reorganizing the drawers she's emptied. I set limits and stick her in time-out when she loses it. (Which she then begs for anytime I'm making her do something she doesn't want to be doing. -i.e. diaper changing.) I'm her nurse, stylist, chef, maid, teacher, therapist, and punching bag.
And I love it. I lover her. But what I'm really saying is that some most days being a mama is tough and exhausting. But I'm guessing that being under two (or three, etc.) is hard too. And just like my little Clara, who can't seem to remember that her potty is for poo-poo and not for stashing toys, I need reminding. That she's not out to get me. That she needs me. And that she's allowed to have bad days too.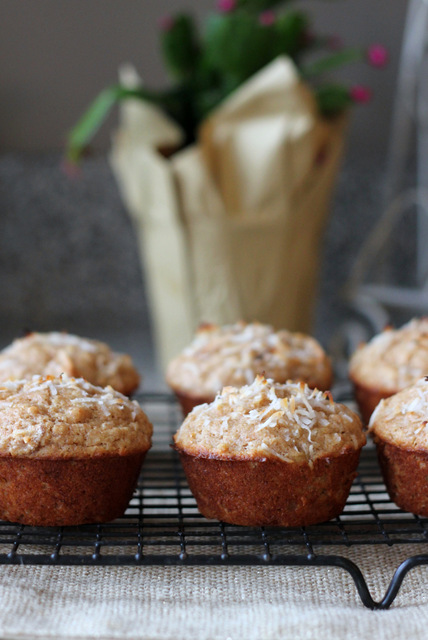 Anytime I ask Clara what she wants for a snack (which isn't often, I usually decide what we eat) she's guaranteed to say one of three things: "chi-chi's" (cheerios), "oie" (orange), or muffie (muffin). (And she begs for pizza every night. I don't blame her.) She's loves her muffins and I love that I can stuff them full of healthy things: oatmeal, whole grains nuts/seeds, fruit (banana, raisins, whatever is in season) and even veggies such as carrots and zucchini.
Today we have coconut banana muffins. I always make my muffins low-sugar (so beware, if you want a dessert-type muffin you'll want to increase the amount of sugar) and usually low-fat by swapping out the oil for yogurt or applesauce. This time I left in the coconut oil because it adds so much flavor and has nutrient benefits. And instead of whole wheat flour, I used spelt. It's still whole grain but makes for an even lighter, more tender muffin. Stock up on spelt- it makes some amazing bread and baked goods! There's a bit of tang from the sour cream/yogurt and texture from the coconut. And they're just sweet enough with banana and brown sugar and cinnamon.
Coconut Banana Muffins
INGREDIENTS
1 3/4 cup whole spelt flour (or white whole wheat flour)
2 tsp. baking powder
1/2 tsp. salt
1/2 tsp. cinnamon
1/4 tsp. nutmeg
1/4 cup brown sugar
1/4 cup coconut oil, melted
1/2 cup sour cream or plain yogurt
2 large eggs
1 tsp. pure vanilla extract
1 cup mashed ripe banana (about 2 large bananas)
1/4-1/2 cup unsweetened shredded coconut + extra for topping (If you use sweetened coconut you could reduce the sugar further)
DIRECTIONS
1. Preheat oven to 375 F. Line with muffin liners or lightly grease a 12 cup muffin pan.
2. In a large bowl, whisk to combine the flour, baking powder, salt, cinnamon, and nutmeg. In a separate bowl, whisk to combine the brown sugar, coconut oil, sour cream or yogurt, eggs, vanilla, and mashed banana. Add the wet ingredients to the dry and mix until just combined. Stir in the coconut. Spoon the batter into the prepared muffin pan.
3. Bake in preheated oven for about 15 minutes, until a toothpick inserted into the center of a muffin comes out clean. Cool in the pan for several minutes before removing muffins from the pan onto a wire rack to cool completely.
(NOTE: These muffins freeze well. Reheat at room temperature or in the microwave.)
Makes 12 muffins.
(Adapted from The Green Forks)