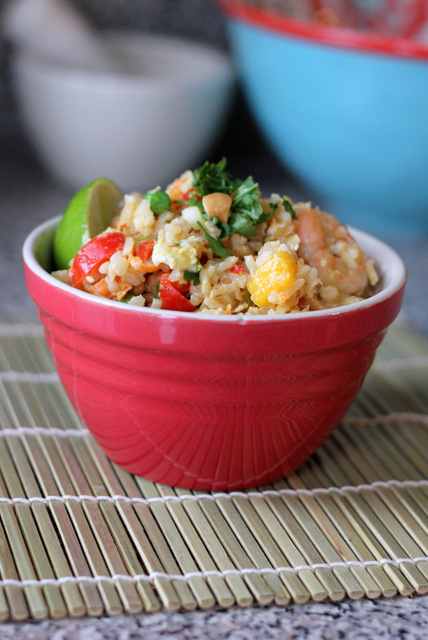 Our favorite Thai spot in Chicago serves something called "fruit fried rice" and every time we dine-in or take-out we order it. I'm all about experimenting and trying new menu items, but that dish I can't resist. Dustin and Clara (with her many years of experience) agree- it's about as good as fried rice gets. It has the usual tender-crisp flecks of sizzled rice and lightly sauteed peppers, carrots, and onion. But it has to be the combination of salty soy sauce and sweet caramelized chunks of tropical fruit (they use pineapple and mango and so I did too) that makes it that good.
Of course it had crossed my mind that I should try to recreate it at home. But I didn't do much about it until I found a pineapple fried rice recipe that sounded just about as irresistible. And so I set to work. In this recipe the rice is simmered (ahead of time for best results) in coconut milk and pineapple juice for extra richness. I suppose it could be made with plain old leftover steamed rice, but it wouldn't have near as much flavor. Then everything is fried in coconut oil for another boost of fruity-ness. I used a combo of pineapple and mango but if you only have one or the other, just double up. I confess to using frozen mango and some leftover canned crushed pineapple I had on hand. I can only imagine how incredible it would be with fresh. And I added shrimp, because I love it. Chicken would work, but shrimp really pairs best (and cooks super fast).
Fried rice isn't hard to master. The key is prepping EVERYTHING ahead of time. You won't have time to be chopping once you get going so have all your ingredients set out in little bowls before you begin. And you might want to wipe out the skillet between cooking the various ingredients. If residue builds up it tends to scorch and stick. This rice tasted excellent as leftovers. (Just add a little water when reheating.) I actually photographed it on day 2 as the sun disappears long before dinnertime. Oh, and I suggest serving it with some Sriracha (hot chili sauce) for a kick.
Pineapple Mango Fried Rice
INGREDIENTS
1 cup white or brown jasmine rice
1 cup light canned coconut milk
1/2 cup pineapple juice
1/2 cup water
~5 Tbsp. coconut oil
1 red bell pepper, chopped
1/2 sweet onion or 2 shallots, chopped
1/2 cup carrot, grated (optional)
4 cloves garlic, minced
1/2 tsp. fresh ginger, grated
1 cup fresh or frozen pineapple, diced (canned pineapple will also work but be sure to drain the liquid)
1 cup fresh or frozen mango, chopped
2 large eggs, slightly beaten
~ 1 1/2 Tbsp. low-sodium soy sauce (use less if your soy sauce is not low-sodium)
1/2 cup frozen peas, defrosted (optional)
4 green onions, sliced
up to 1/2 cup cashews, chopped (I used roasted unsalted cashews)
handful fresh cilantro, chopped
lime wedges, for serving
optional:
8 oz. shrimp, peeled and deveined
salt and freshly ground black pepper
2 tsp. cornstarch
DIRECTIONS
1. NOTE: This step must be done ahead of time as the rice must be allowed to cool. It will turn out even better if the rice is cooked and refrigerated for a day or two beforehand. To cook the rice, combine the rice, coconut milk, pineapple juice, and water in a medium saucepan over medium heat. Cover and bring to a boil; reduce heat to low and simmer until the rice is tender and has absorbed the liquid. (Time will vary depending on the brand and type of rice. For Trader Joe's brown jasmine rice it took about 30 minutes. White rice will cook quicker. Follow the cooking directions on your package of rice.) Let the rice cool completely. You can spread it out on a sheet pan and place it in the fridge until chilled.
2. To prepare the shrimp (if using), pat shrimp dry with a paper towel, season with salt and freshly ground black pepper, and toss with 2 tsp. cornstarch to coat. Set aside.
3. In a large skillet or wok, heat 1 Tbsp. coconut oil over medium-high heat. Add the onions, peppers, and carrots (if using) and a pinch of salt and cook for several minutes, until they begin to soften. Add the garlic and ginger and cook for another 30 seconds. Remove veggies and set aside in a bowl.
NOTE: Between each step, if there is a lot of residue in your skillet, carefully (it will be HOT) wipe it clean before proceeding.
4. Add another dab (about 1/2 Tbsp.) coconut oil to the pan and add the pineapple and mango. Cook, stirring frequently, for about 5 minutes, until golden. Remove from the pan and add to the bowl with the vegetables.
5. Add another 1/2 Tbsp. coconut oil to the skillet and add the eggs, quickly stirring as they cook, which should only take about a minute. Remove them before they have completely set and add them to the bowl with the fruit and vegetables. You can break them apart with a spatula however you wish.
6. To cook the shrimp (if using), add another tablespoon of coconut oil to the skillet or wok over medium-high heat. Add the shrimp in a single layer and let cook several minutes, undisturbed. When they look cooked on the bottom and edges and begin to curl, flip and cook on the second side another minute until just cooked through. Remove from the pan and place in the same bowl with the rest of the cooked ingredients.
7. Heat another 2 Tbsp. coconut oil over medium-high heat. Add the cooled rice and toss to coat in the oil. Cook, only stirring every couple minutes, until the rice gets crisp and golden. This should take 6-8 minutes. Reduce the heat to medium-low and stir in the soy sauce, peas (if using), green onions, and cashews. Add the other cooked ingredients back to the skillet and toss to combine everything. Cook for another minute or two until everything is heated through. Taste and season with additional soy sauce if needed. Serve immediately garnished with fresh cilantro and lime.
Serves 4.
(Adapted from How Sweet It Is)