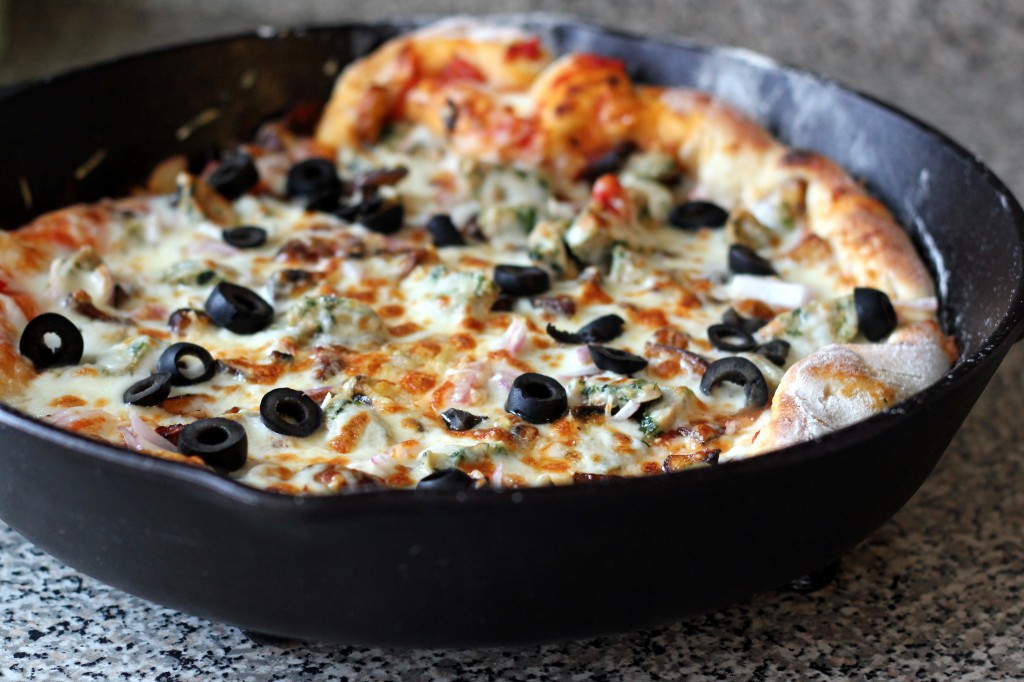 Skillet pizza again. But this time not deep dish. My usual honey whole wheat dough recipe, but halved (so a whole recipe would make 2 pizzas). I love using a pizza stone and for a large pizza, it works wonderfully. But this new method is the closest I've come to an authentic puffy, light, oven-fired crust. The prepared crust (with toppings) is placed in a hot cast iron skillet on the stove top and then immediately transferred to the broiler where it cooks for less than 3 minutes!! It's so fast and the result is awesome.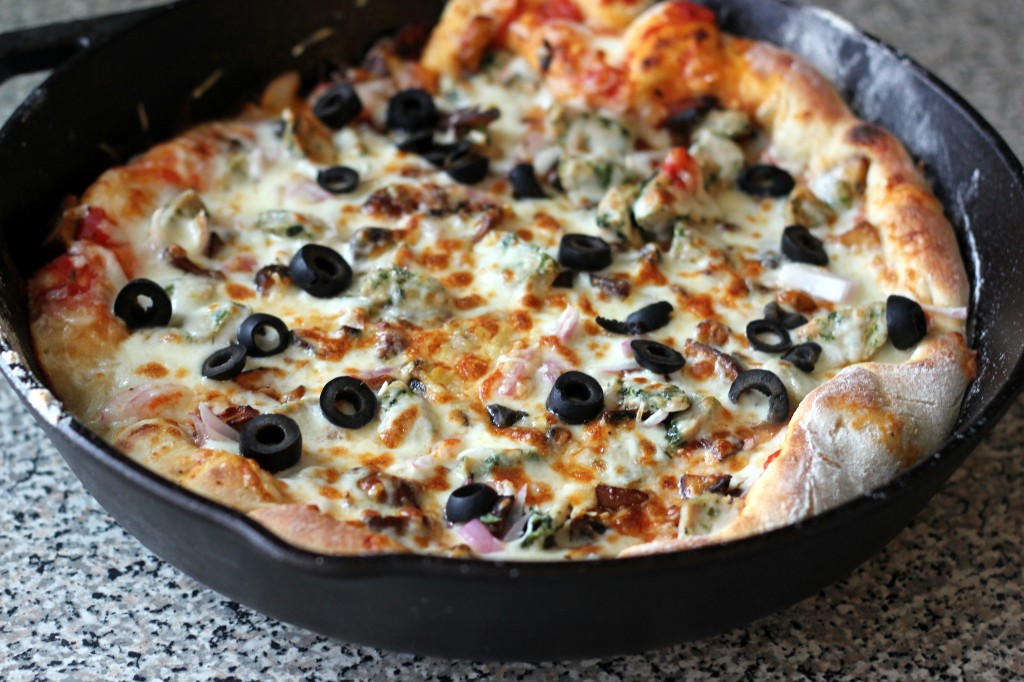 On your first attempt you are pretty much guaranteed to make a mess. Transferring the prepped pizza to the HOT skillet is tricky. Dump more flour/cornmeal than feels comfortable under that crust while you are topping it and then it should slide easily. Don't worry if some cheese or toppings land under the crust or if it doesn't look pretty. It will taste great no matter what. And the little bits of cheese that end up on the outside of the crust crisp up against the skillet and those were my favorite bites (think Pequod's crispy cheese crust- yum).
If I haven't yet convinced you that you need a cast iron skillet, maybe this recipe will do the trick?
Skillet Pizza
INGREDIENTS
1 recipe pizza dough (to make 2 skillet pizzas)
flour or cornmeal, for dusting
12-inch round cast iron skillet
toppings of choice
for this pizza I used:
crushed tomato sauce (makes enough for 2 large pizzas, or about 4 skillet pizzas)
chicken sausage
roasted mushrooms
red onion
black olives
shredded mozzarella
freshly grated Parmesan
pinch crushed red pepper flakes
DIRECTIONS
1. Prepare the dough according to recipe directions.
2. When the dough has finished rising, preheat the broiler. Meanwhile, place a large (12-inch recommended) cast iron skillet on the stove over high heat and preheat for 10 minutes, until very hot (turn down the heat slightly if it starts to smoke).
3. Divide the dough into 2 equal portions. Generously flour or sprinkle cornmeal over a large pan or pizza peel. Carefully stretch the dough to the size of your skillet (about 12 inches). Place on the prepared pan/peel and top with desired toppings.
4. When the skillet is ready, carefully transfer the pizza from the pan/peel to the HOT skillet. (If it's not sliding off then you didn't place enough flour/cornmeal under the crust. It's OK if it doesn't land perfectly in the skillet. We're going for taste, not looks here.) Immediately transfer the HOT skillet to the oven and place under the broiler. After 45 seconds-1 minutes, rotate the pizza 180 degrees and continue broiling for approx. another 2 minutes until the crust is puffed and golden and the cheese is bubbling (it happens FAST). Remove from the oven and repeat with the remaining dough.
Makes 2 skillet pizzas (approx. 12-inches round), each pizza serves 2.
(Adapted from Bev Cooks and Kitchen Konfidence)