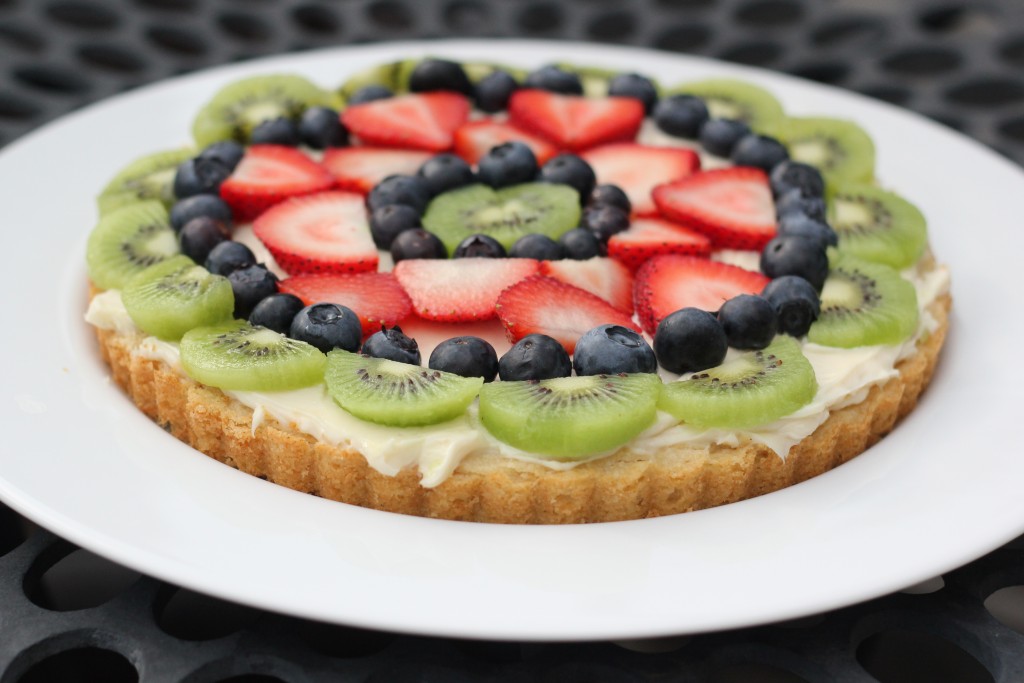 I keep starting to write about our day to day life (job searching, moving, the most annoying masters thesis in the world, toddlers who are this very minute singing while kicking the wall and NOT napping) and then decided I'm boring myself and all you're really here for is a recipe. So, a recipe it is.
We bbq'd on Memorial Day and tried three new recipes and loved them all. So I'll be sharing them. Starting with dessert, naturally. A giant sugar cookie spread with a generous layer of lemony cream cheese frosting and topped with as much fruit as you can fit. Some people call it fruit pizza. I just know it's delicious and the perfect thing to make when it's 4pm and your guests are arriving at 5 and you need a dessert STAT. It does cook quickly, just be warned that you must let it cool completely before frosting or you'll end up with a puddle of fruit on top.
Sugar Cookie Crust Fruit Pizza
INGREDIENTS
1/2 cup (1 stick) unsalted butter, softened
1/2 cup sugar
1/4 cup light brown sugar
1 large egg
1 tsp. pure vanilla extract
1/4 tsp. almond extract
1 1/4 cup all purpose flour
1/2 tsp. baking powder
1/4 tsp. salt
Spread:
1 (8 ounce) package cream cheese, softened
3/4 cup powdered sugar
1 1/2 tsp. vanilla extract
1/2 tsp. lemon zest
Fresh Fruit:
strawberries, blueberries, raspberries, blackberries, peaches, kiwi, mango, etc.
DIRECTIONS
1. Preheat oven to 325 F.
2. In a medium bowl, mix together the flour, baking powder, and salt. In a large mixing bowl cream together the butter and sugars until smooth. Add the egg, vanilla, and almond extract and mix until just incorporated. Slowly incorporate the flour mixture into the creamed butter and mix until blended. Remove dough from bowl and press into a greased 10 inch tart pan or pizza pan.
3. Bake in preheated oven for 10 to 12 minutes, or until the edges just start to brown. Remove from oven and let cool on a cooling rack.
4. In a large mixing bowl, beat the cream cheese, sugar, vanilla, and lemon zest until smooth. Spread evenly on the cooled crust. Arrange fresh fruit in desired pattern on top of filling and chill until ready to slice and serve.
Makes a 10-inch round cookie.
(Adapted from Kelsey Nixon via Lahatchita Eats)