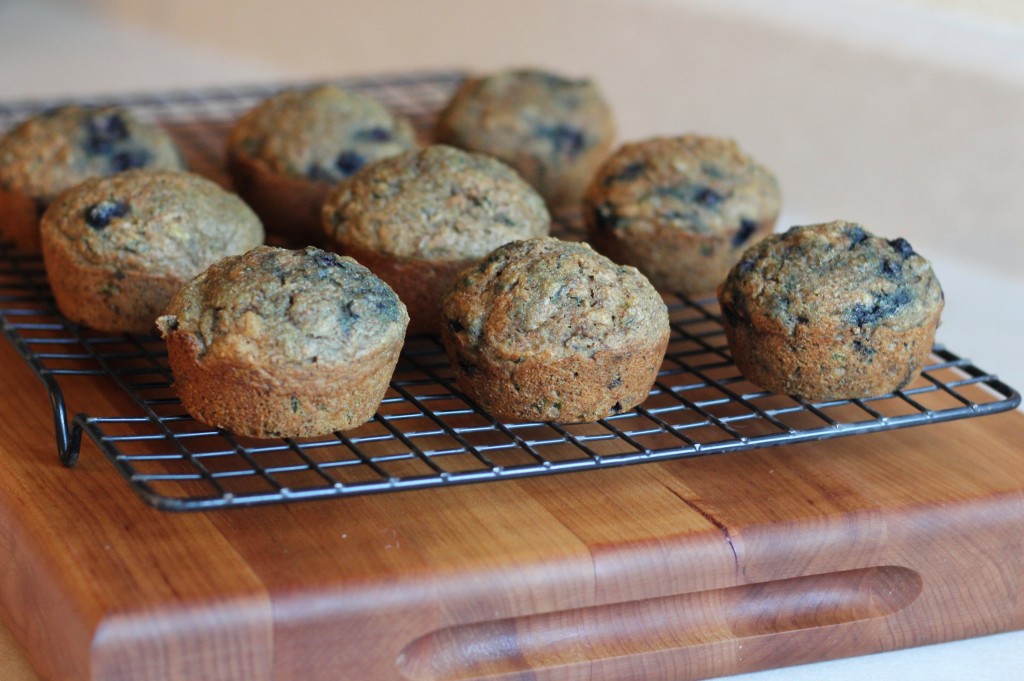 Another muffin, this one fit for breakfast or snack or anytime because it's full of good-for-you things like whole wheat, flax, blueberries, olive oil and zucchini. Usually I use honey to sweeten muffins but in this case I really like the combo of blueberries + maple syrup- much like a blueberry pancake! I used spelt flour because it yields the softest, most tender whole grain muffins. And I replaced 1/4 cup of flour with ground flaxseed because I almost always do. As promised, I added the adjustments I made for high altitude*.
p.s. The zucchini almost entirely disappears in this muffin (Which is a good thing when you're serving a two-year-old who, depending on her mood, finds hints of green in her muffin off-putting.)
Maple Blueberry Zucchini Muffins
INGREDIENTS
1 1/2 cups white whole wheat flour, whole wheat pastry flour, or whole spelt flour (I usually replace 1/4 cup of the flour with ground flaxseed)
1 tsp. baking soda
1 tsp. cinnamon
1/4 tsp. salt
1 cup shredded zucchini (about 1 medium zucchini)
1/3 cup pure maple syrup (or honey)
1 tsp. pure vanilla extract
1/4 tsp. almond extract
2 Tbsp. olive oil
1/3 cup unsweetened applesauce
1 egg
1/4 cup unsweetened almond milk (any milk will work)
3/4 cup fresh or frozen blueberries (I love frozen wild blueberries)
DIRECTIONS
1. Preheat oven to 350 F. Line a 12 cup muffin pan with nonstick cooking spray or line with muffin liners.
2. In a large bowl combine the dry ingredients: flour, baking soda, cinnamon and salt; set aside.
3. In a separate medium bowl, combine the following wet ingredients:zucchini, maple syrup, vanilla and almond extract, olive oil, applesauce, egg and milk until well combined. Add to dry ingredients and stir until just combined. Gently fold in blueberries.
4. Evenly distribute batter among muffin tins, filling about 3/4 of the way full. Bake for about 18 minutes or until toothpick inserted into the middle of the muffin comes out clean. Cool on wire rack for several minutes then remove muffins and transfer to wire rack to finish cooling.
*to adjust for high altitude: +2 Tbsp. flour, +2 Tbsp. almond milk, -1 Tbsp. maple syrup/honey, halve baking soda, increase baking temp to 375 F, decrease baking time slightly
Makes 12 muffins.
(Adapted from Ambitious Kitchen)