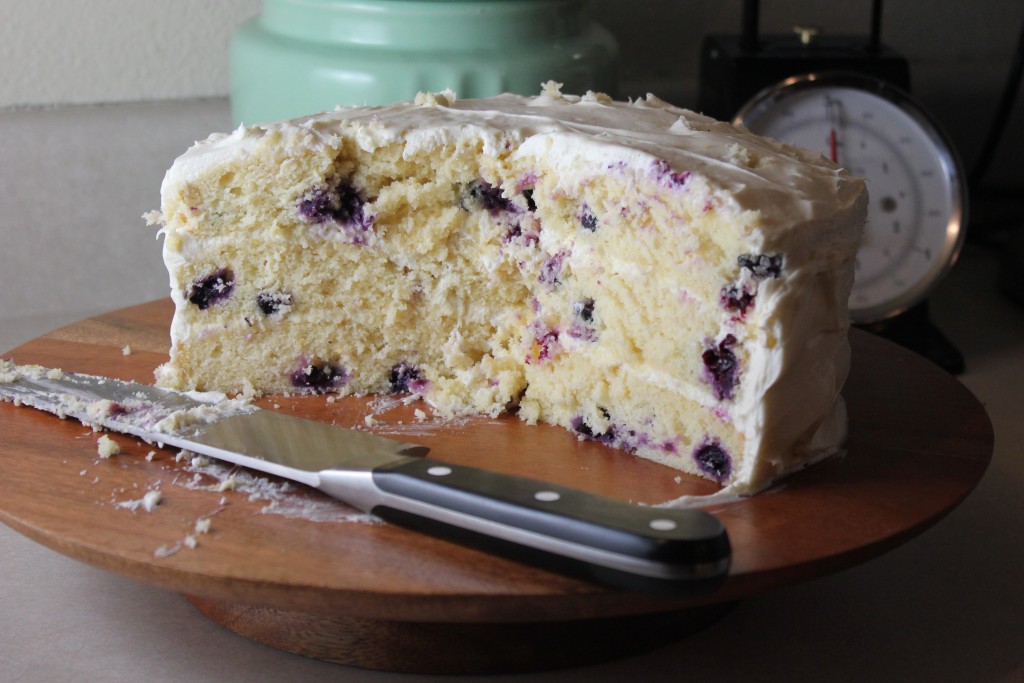 My birthday cake! Baked by Clara, assisted by my mom (with my guidance on the high altitude adjustments*). I wanted something refreshing and spring-like to celebrate this year and decided on this cake at first sight. Blueberry + lemon + my favorite whipped cream cream cheese frosting. You can go with the original recipe and make regular cream cheese frosting, but I promise this whipped cream version is amazing!
I don't have too many suggestions, just make sure not to overmix your batter or overbake your cake. Both will result in a denser, dryer result which is no good. If I'd had extra blueberries, I would have decorated with them. Or top it with some toasted coconut or almonds. Leftover cake can be frozen and later defrosted for continued enjoyment.
Blueberry Lemon Layer Cake with Whipped Cream Cheese Frosting
INGREDIENTS
cake:
1 cup unsalted butter, softened to room temperature
1 1/4 cups granulated sugar
1/2 cup packed light brown sugar
4 large eggs, at room temperature
1 Tbsp. pure vanilla extract
3 cups all-purpose flour (careful not to over-measure)
1 Tbsp. baking powder
1/2 tsp. salt
1 cup buttermilk
zest + juice of 3 medium lemons
1 1/2 cups blueberries, fresh or non-thawed frozen
1 Tbsp. all-purpose flour
frosting:
1 1/2 cups heavy whipping cream
8 oz. cream cheese, softened to room temperature
2 cups powdered sugar
1 tsp. pure vanilla extract
1/8 tsp. salt
DIRECTIONS
1. Preheat the oven to 350 F. Spray three 9×2 inch cake pans with nonstick spray. Set aside.
2. Make the cake: Using a handheld or stand mixer with a paddle attachment, beat the butter on high until creamy – about 1 minute. Add granulated and brown sugars and beat on medium-high speed until creamed, about 2-3 minutes. Scrape down the sides and bottom of the bowl as needed. Add eggs and vanilla. Beat on medium speed until everything is combined, about 2 full minutes. Scrape down the sides and bottom of the bowl as needed. Set aside.
3. In a large sized bowl, toss together the flour, baking powder, and salt. Slowly add the dry ingredients to the wet ingredients. Beat on low speed for 5 seconds, then add the buttermilk, lemon zest, and lemon juice. Remove from the mixer and stir lightly until everything is just combined. Toss the blueberries in 1 Tablespoon of flour and fold into the batter. Batter is extremely thick. Do not overmix at any point. Overmixing will lend a tough, dense textured crumb.
4. Spoon batter evenly into 3 prepared cake pans. If only using 2 cake pans, your bake time will be longer. Bake the three layers for about 21 minutes or until a toothpick inserted in the center comes out clean. Remove from the oven and allow to cool completely before frosting.
5. Make the frosting: Using a handheld or stand mixer with a whisk attachment, whip the heavy cream until stiff peaks form. Set aside. In a separate bowl, beat cream cheese on medium speed until smooth and light. Add the powdered sugar, vanilla extract, and salt with the mixer running on low. Increase to high speed and beat for another minute. Add the whipped cream and beat for another minute until smooth and airy. Refrigerate until ready to use.
6. Assemble and frost: First, using a large serrated knife, trim the tops off the cake layers to create a flat surface (if needed- I didn't have to). Place 1 layer on your cake stand. Evenly cover the top with frosting. Top with 2nd layer, more frosting, then the third layer. Top with frosting and spread around the sides. The recipe doesn't make a ton of frosting, just enough for a light frost. Top with blueberries or lemon garnish if desired. Refrigerate a bit before serving so the cake can set.
7. Make ahead tip: Prepare cakes and frosting 1 day in advance. Keep cakes at room temperature, covered tightly. Refrigerate prepared frosting in an airtight container until ready to use. Frosted or unfrosted cakes may be frozen up to 2 months, thaw overnight in the refrigerator and bring to room temperature if desired before serving.
*for high altitude: – 2 Tbsp. granulated sugar, + 1 egg, + 3 Tbsp. flour, decrease baking powder by half, + 2 Tbsp. buttermilk, increase baking temperature to 375 F, decrease baking time to ~18 min
Makes a 9-inch round, 3 layer cake.
(Cake adapted from Sally's Baking Addiction, Frosting from All Recipes)