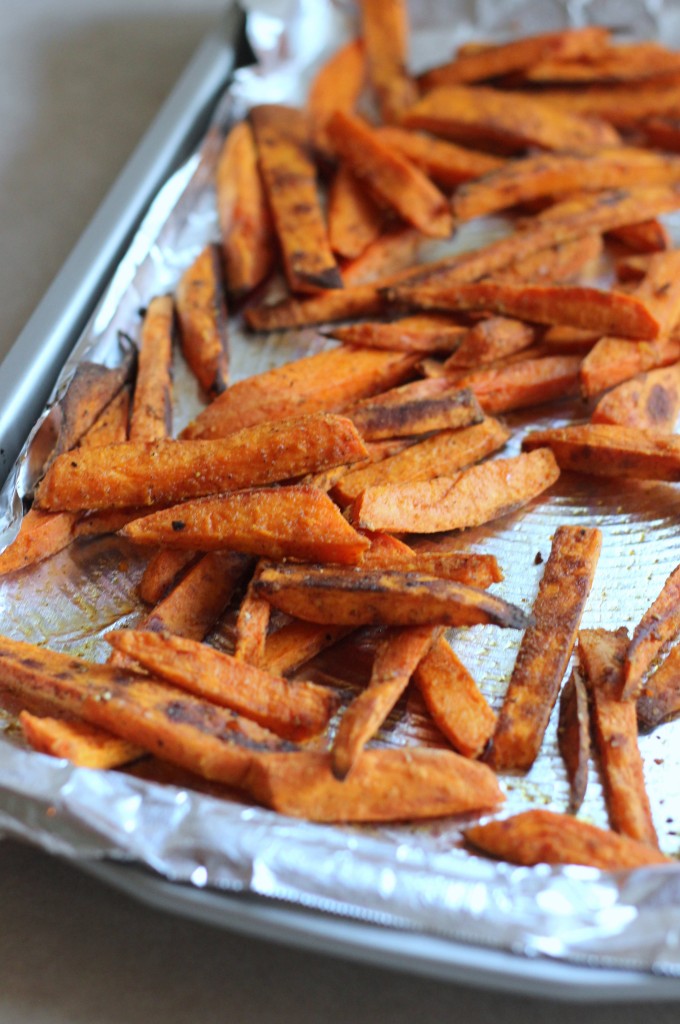 Some time ago I discovered the trick to crispier baked sweet potato fries and haven't looked back. The secret ingredient? Cornstarch. A little bit of cornstarch makes a big difference in crispiness! The other key to success is spacing out your fries on the baking sheet. If they're toppling all over each other (as pictured- for the photo I combined two pans into one- not helpful, I know), they'll steam and turn soggy. And they can be seasoned with whatever spices you love. My go-to mix is cumin + coriander + garlic powder + smoked paprika and I serve them with a chipotle ranch sauce for dipping. Yum.
Crispy Baked Sweet Potato Fries
INGREDIENTS
sweet potatoes
2 tsp. cornstarch per sweet potato
1 Tbsp. olive oil (or melted coconut oil) per sweet potato
kosher salt and freshly ground black pepper
spices:
cumin + coriander + garlic powder + smoked paprika (my favorite combination)
cinnamon-sugar
cayenne
Cajun seasoning
adobo seasoning
curry powder, etc.
DIRECTIONS
1. Preheat oven to 400 F. Line a large baking sheet with foil (coated with nonstick spray), parchment paper, or a silicone baking mat.  Make sure the potatoes aren't too crowded. I used 2 medium sized baking sheets for 2 potatoes.
2. Wash and peel the potatoes. Cut off the ends. Cut the potatoes into thin slices about 1/4 inch wide.  Place in a large bowl and toss with cornstarch. You want a nice thin coating.  Discard the extra cornstarch. Place potatoes back into the bowl and add the olive oil and seasoning(s) of choice. (I often just mix everything right on the baking sheet.)
3. Line the sweet potatoes onto the baking sheet.  Try not to crowd them or else they won't bake, they'll just steam.  Bake for 20-25 minutes, turning occasionally, until soft in the center and crisp on the outside. Serve immediately.
(Adapted from Sally's Baking Addiction)