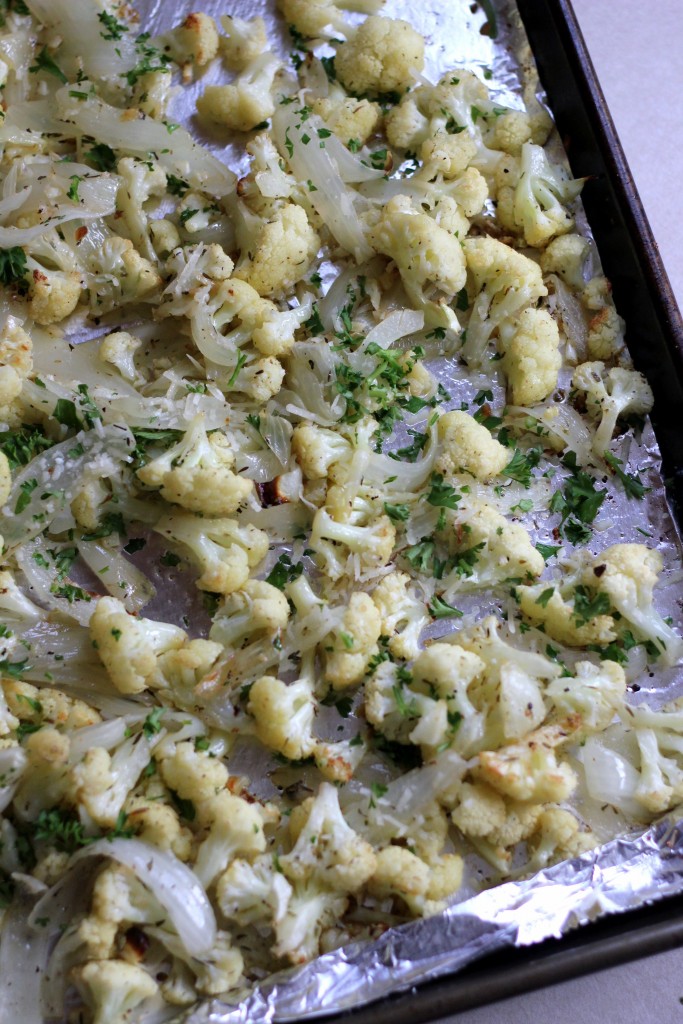 Roasted Cauliflower revisited- with the addition of a sweet onion, garlic, thyme, and Parmesan. Another way to make your veggies taste like candy. If you really don't like onions, go ahead and leave them out. But they caramelize and crisp and are arguably the best part. I can't actually remember if I added the Parmesan partway through cooking (as the recipe instructs) or at the end. (I tend to skim recipes and miss such details- oops.) No matter, either way it'll probably taste the same.
Roasted Cauliflower with Parmesan
INGREDIENTS
1 head cauliflower
1 medium onion, sliced (optional- I used a sweet onion)
4 thyme sprigs (or a sprinkling of dried thyme)
3 large cloves garlic, minced
3 Tbsp. olive oil
~1 tsp. kosher salt
freshly ground black pepper
1/2 cup freshly grated Parmesan (or Pecorino)
fresh parsley, chopped for garnish
DIRECTIONS
1. Preheat oven to 425 F. Cut 1 head cauliflower into florets; toss on a large rimmed baking sheet with the onion, thyme, garlic, and olive oil; season with kosher salt and freshly ground black pepper. Roast, tossing occasionally, until almost tender, 15- 20 minutes. Sprinkle with 1/2 cup grated Parmesan, toss to combine, and roast until cauliflower is tender, 5-10 minutes longer.
Serves 4.
(Adapted from Bon Appetit)