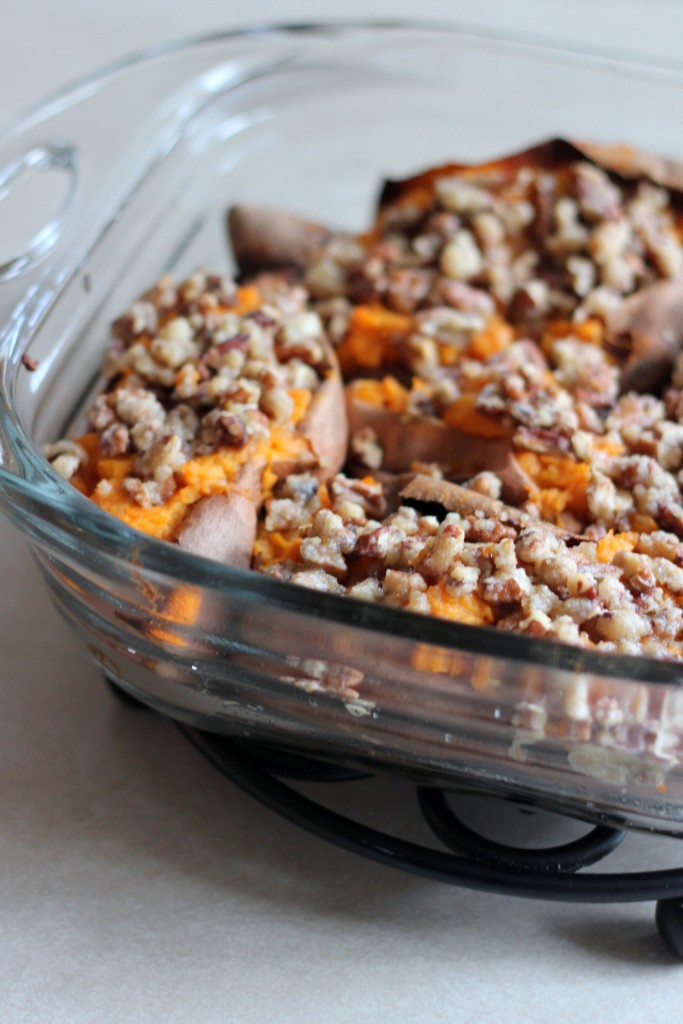 Since we fell hard for that sweet potato casserole over the holidays I'd been looking for a simpler, slightly healthier way to mimic its flavors. I have a favorite savory twice-baked sweet potato and now I have a sweet. All this recipes requires is roasting whole sweet potatoes in the oven until tender, mashing their innards with a little sour cream (optional, but it really gives them a great creamy flavor- some butter or coconut oil could take its place) and spice (again, optional, but some cinnamon and nutmeg is awesome here). Then the potatoes are re-stuffed and topped with the simplest crumble: butter (again, I bet coconut oil would work), brown sugar, flour, and pecans. After baking a short second time, the pecans are toasty and fragrant and the sweet potatoes are transformed into a treat.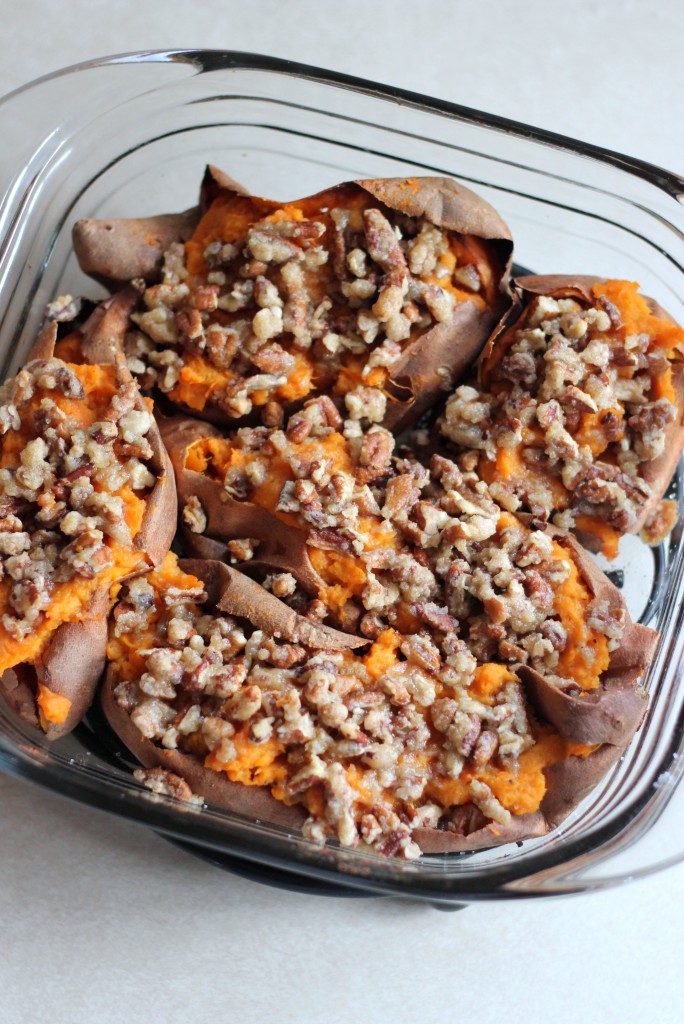 You could get really decadent and add some brown sugar to the mashed filling as well. And then eat them for dessert because they're that good.
Twice Baked Sweet Potatoes with Pecan Streusel
INGREDIENTS
4 medium sweet potatoes (you see 5 pictured because mine were quite small)
2 Tbsp. sour cream
1/4 tsp. cinnamon (optional)
dash nutmeg (optional)
salt and freshly ground black pepper, to taste
streusel:
1/2 cup chopped pecans
1 1/2 Tbsp. butter
2 Tbsp. all-purpose flour
2 Tbsp. brown sugar
pinch salt
DIRECTIONS
1. Preheat oven to 400 F.
2. Poke sweet potatoes several times with a fork. Bake until soft (you can wrap in foil, or not- I just place min directly on the rack), for 45-60 minutes, until soft in the middle. Set aside to cool.
3. Meanwhile, prepare the topping. Combine melted butter, brown sugar, pecans, flour, and a pinch of salt in a small bowl and toss until well combined.
4. Cut potatoes in half. Scoop out the potato with a spoon into a bowl. Add the sour cream, spices (optional), salt and pepper to taste and mash until smooth.
5. Fill each skin with ¼ of the mixture. Top with the topping and press down slightly to secure.
6. Return to the oven to bake uncovered for another 15-20 minutes. Serve immediately.
Makes 4 sweet potatoes.
(Adapted from Spicy Spoonful)