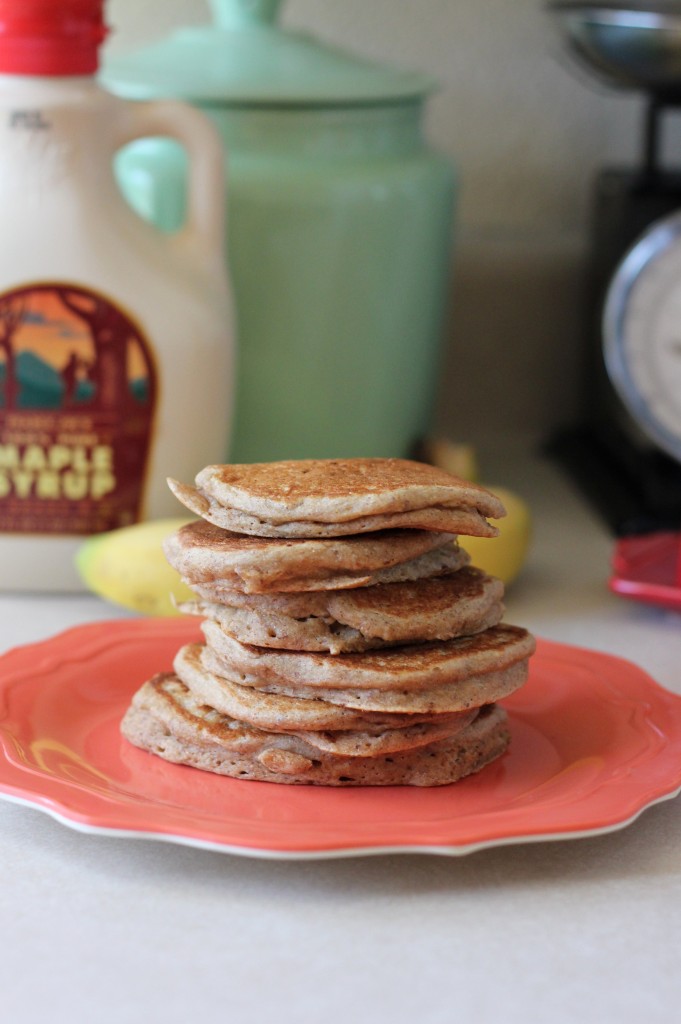 Light and fluffy 100% whole wheat banana pancakes, made with Greek yogurt and flax if you love flax like I do. The banana is subtle and doesn't make them dense like typical banana bread. Dustin approved and he doesn't care for banana- or any fruit-filled- bread. I served them with extra sliced banana and maple syrup. Also yummy with blueberry jam. I rarely calculate the calories for recipes, but since I ate 4? 5? of these guys I was curious. Based on the ingredients I used (see parenthesis below) they're only 60 (batch of 15) – 75 (batch of 12) calories a piece. That doesn't account for the butter and syrup but they're delicious as is and pretty darn good for you too!
Whole Wheat Banana Pancakes
INGREDIENTS
1 and 1/3 cups white whole wheat flour (I replaced 1/6 cup of the flour with ground flaxseed)
1/4 tsp. salt
2 tsp. baking powder
1 tsp. ground cinnamon
1 large egg
1 cup milk (I used unsweetened vanilla almond milk)
1/2 cup mashed ripe banana (about 1 large banana)
2 Tbsp. packed dark or light brown sugar
1/4 cup Greek yogurt (I used plain nonfat)
1 tsp. pure vanilla extract
DIRECTIONS
1. Whisk the flour, salt, baking powder, and cinnamon together in a large bowl. Set aside. In a separate medium bowl, whisk the egg, milk, and banana together. Whisk in the brown sugar and yogurt until no lumps remain. Whisk in the vanilla until combined.
2. Make a well in the dry ingredients and pour the wet ingredients in. Stir gently until just combined. Do not overmix the batter or your pancakes will be tough and very dense.
3. Heat a griddle or skillet over medium heat. Coat generously with cooking spray, oil, or butter.  Once very hot, drop about 1/4 cup of batter on the griddle. Cook until the edges look dry and bubbles begin to form on the center or sides, about 1 minute. Flip and cook on the other side until cooked through, about 2 more minutes. Coat griddle/skillet again with nonstick spray for each pancake or batch of pancakes.
4. Keep pancakes warm in a preheated 200 F oven until all pancakes are cooked. Serve immediately. Pancakes taste best right after they are made. Pancakes freeze well, up to 2 months.
Makes 12-15 pancakes, depending on size.
(Adapted from Sally's Baking Addiction)