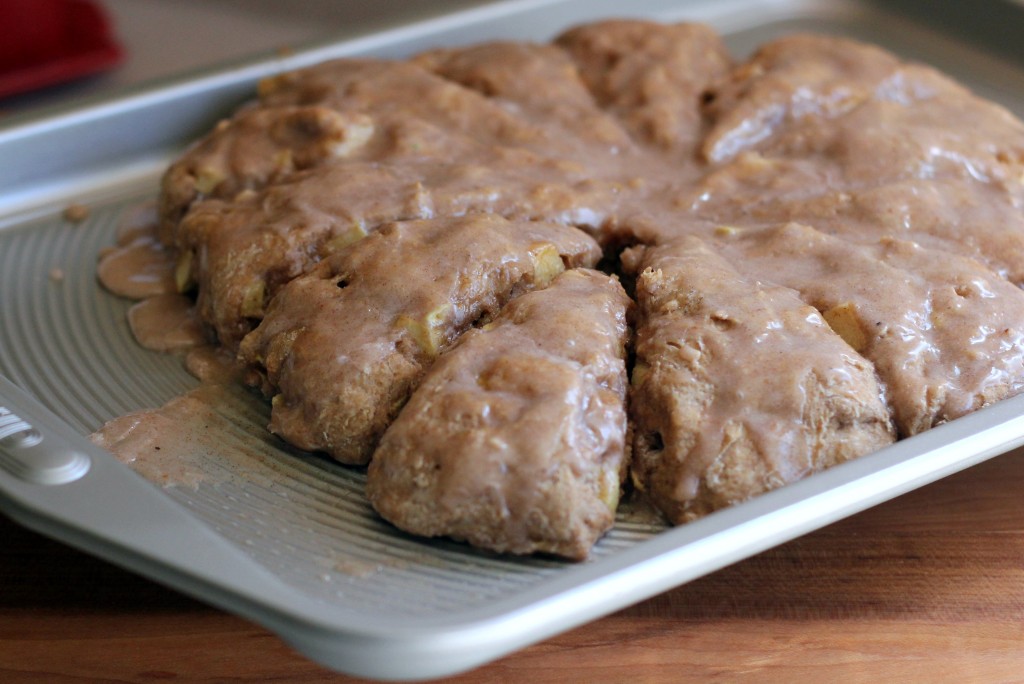 My sister made these spiced apple scones for our Christmas morning breakfast and I loved them. They're on the healthy side (compared to other such scones) with half whole wheat flour, just enough butter, and light on the sugar. For Easter brunch I made them on my own and Clara and I devoured most of the batch. Be sure not to over-bake them so they don't dry out. I like them best warm out of the oven, with a generous drizzle of cinnamon-sugar glaze.
Apple Spiced Scones
INGREDIENTS
1/2 cup cold buttermilk
1/4 cup unsweetened apple sauce
1/4 cup dark brown sugar, packed
2 tsp. pure vanilla extract
1 large egg
1 cup white whole wheat flour
1 cup all purpose flour
1 Tbsp. baking powder
1 Tbsp. cinnamon
1/4 tsp. nutmeg
1/2 tsp. salt
3 Tbsp. chilled butter (must be cold), cut into small pieces
2 cups peeled diced apples
for the glaze:
1 cup powdered sugar, sifted
1/2 tsp. cinnamon
pinch nutmeg
2 Tbsp. milk
DIRECTIONS
1. Preheat oven to 375 F.
2. Combine the first five ingredients in a medium bowl, stirring with a whisk. Spray a baking sheet with cooking spray or line with parchment, etc.
3. Combine the flours, baking powder, cinnamon nutmeg, and salt in another large bowl, stirring with a whisk. Cut in chilled butter with a pastry blender, until the mixture resembles coarse meal. Fold in diced minced apples.Add buttermilk mixture, stirring just until moist.
4. Place dough onto a floured surface and knead lightly four times with floured hands. Form dough into an 9-inch circle onto baking sheet, about 3/4″ thick. Using a knife, cut dough into 12 wedges all the way through.
5. Bake until golden, about 18 minutes. Place on a cooling rack about 10 minutes.
6. To make the glaze: Mix powdered sugar, cinnamon and nutmeg with milk, adding slightly more milk if necessary to get the consistency to the right thickness. Stir until completely smooth.
7. Drizzle the glaze over the scones using a spoon – or- place the glaze in a shallow bowl and dip the top of the scones into the glaze. Serve warm or at room temperature.
Makes 12 scones.
(Adapted from Skinnytaste)