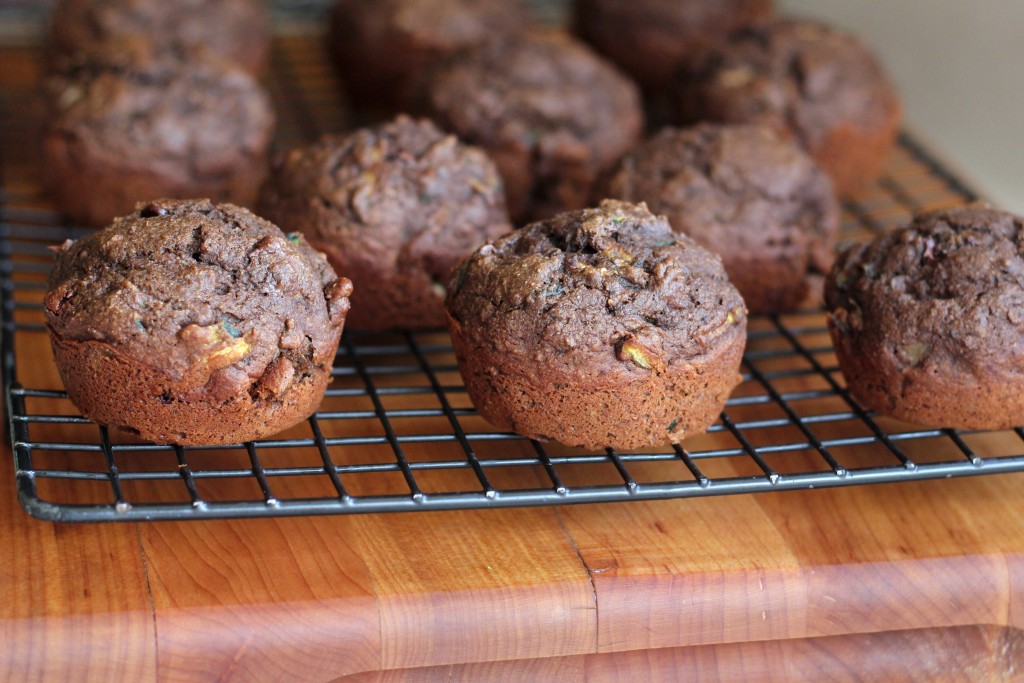 A healthy double chocolate muffin today! I know it sounds unlikely, but these muffins are still light on sugar/fat/calories. They're made with whole wheat flour (I added flax as usual), cocoa powder, and sweetened with honey and a few mini chocolate chips. The zucchini keeps them extra moist, as does a bit of coconut oil and applesauce. I've made half a dozen muffins now from Ambitious Kitchen and loved them all! Check out her site for lots more good-for-you treats.
p.s. High altitude adjustments included below.*
Healthy Chocolate Zucchini Chocolate Chip Muffins
INGREDIENTS
1 1/4 cups white whole wheat flour (I replaced 2 Tbsp. flour with ground flaxseed)
1/3 cup unsweetened cocoa powder
1 tsp. baking soda
1/4 tsp. salt
1 egg
1 cup shredded zucchini (about 1 medium zucchini)
1/4- 1/3 cup honey (I used 1/4 cup)
2 Tbsp. coconut oil, melted
1/2 cup unsweetened vanilla almond milk (or regular milk)
1/4 cup applesauce
1 tsp. pure vanilla extract
1/4- 1/2 cup chocolate chips (I used 1/4 cup mini chocolate chips)
DIRECTIONS
1. Preheat oven to 350 F. Lightly coat a muffin tin with cooking spray.
2. Squeeze shredded zucchini of excess water with a paper towel (or just use your hands).
3. In a medium bowl, whisk together flour (and flaxseed, if using), cocoa powder, baking soda, and salt; set aside.
4. In a separate bowl, whisk together coconut oil, honey, vanilla, egg and egg white until well combined. Add in zucchini, applesauce, and almond milk; mix again. Slowly add in dry ingredients and mix until just combined. Gently fold in chocolate chips.
5. Evenly divide batter into prepared muffin tin. Bake 18-22 minutes or until toothpick inserted into the middle of a muffin comes out clean. Remove muffins and transfer to wire rack to finish cooling.
*for high altitude: +1 Tbsp. flour, halve baking soda, +1 Tbsp. milk, increase baking temp to 375, and decrease baking time slightly
Makes 12 muffins.
(Adapted from Ambitious Kitchen)