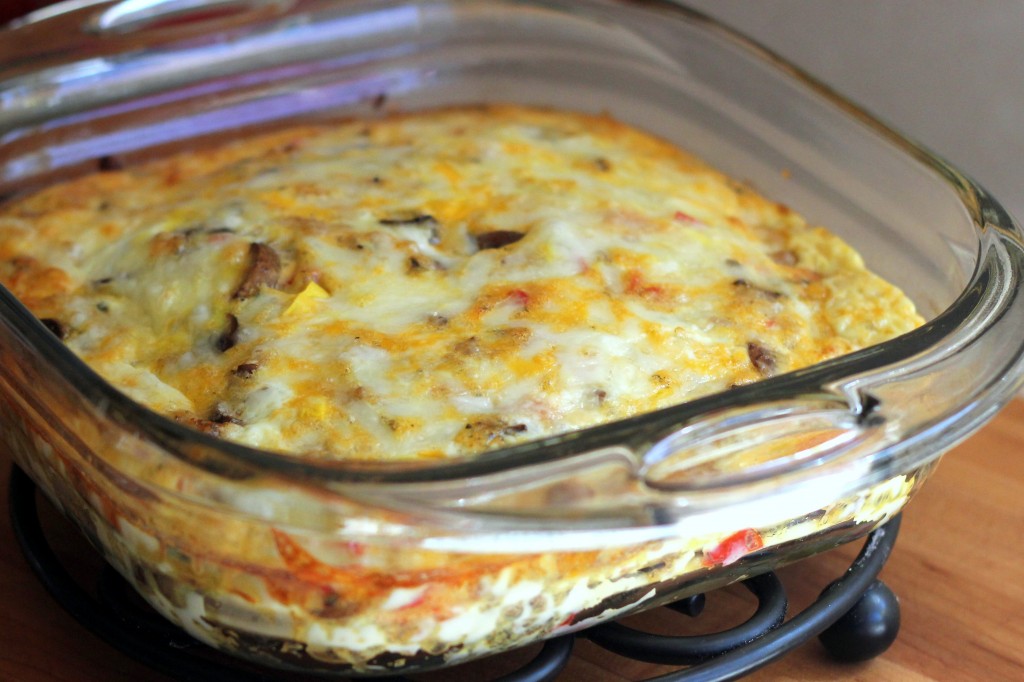 I've made this versatile breakfast casserole twice now with completely different ingredients and both times it was delicious. The base doesn't change: eggs, milk, cheese, and veggies. What variety of melty cheese and handful of veggies go in is up to you. You can make it with sausage or ham or no meat at all. I halve the recipe to feed the 3 of us. Leftovers make an amazing breakfast sandwich on a toasted English muffin.
Sausage, Cheese, and Veggie Egg Bake
INGREDIENTS
8 oz. sweet or spicy Italian chicken sausage (or diced ham, etc.)
2 cups mozzarella (or fontina, Cheddar, Montery Jack, etc.), shredded (I used a combo of Swiss and Colby Jack)
1 Tbsp. olive oil
1/3 cup chopped shallots (or green onion)
8 oz. sliced mushrooms (I used cremini)
1 cup diced red bell pepper (or roasted red pepper)
1 1/2 cups chopped veggie (broccoli, spinach, tomato, or zucchini- I used yellow squash)
10 large eggs
1/4 cup milk
2 Tbsp. grated parmesan cheese
1/4 tsp. Italian seasoning (optional, but recommended)
1/2 tsp. kosher salt
1/4 tsp. ground black pepper
DIRECTIONS
1. Preheat the oven to 375 F. Coat a 9 x 13 baking dish with cooking spray. Place half of cheese into the baking dish.
2. Spray a large nonstick skillet with cooking spray, cook the sausage over medium heat breaking up as it cooks until browned and cooked through. Set aside.
3. Add the oil to the skillet with the shallots/onion and saute several minutes until tender. Add the mushrooms, peppers, and remaining veggies and saute until vegetables are tender, about 5 to 6 minutes. Return the sausage, cook 1 minute; mix well and remove from heat. Spread evenly over the cheese mixture.
4. In a large bowl combine the eggs, milk, Parmesan, Italian seasoning, salt and pepper and whisk well. Slowly pour over the vegetables in the baking dish and top with remaining cheese.
5. Bake until a knife inserted near the center comes out clean, about 30 minutes. Let stand several minutes before slicing.
Serves 8.
(Adapted from Skinnytaste)