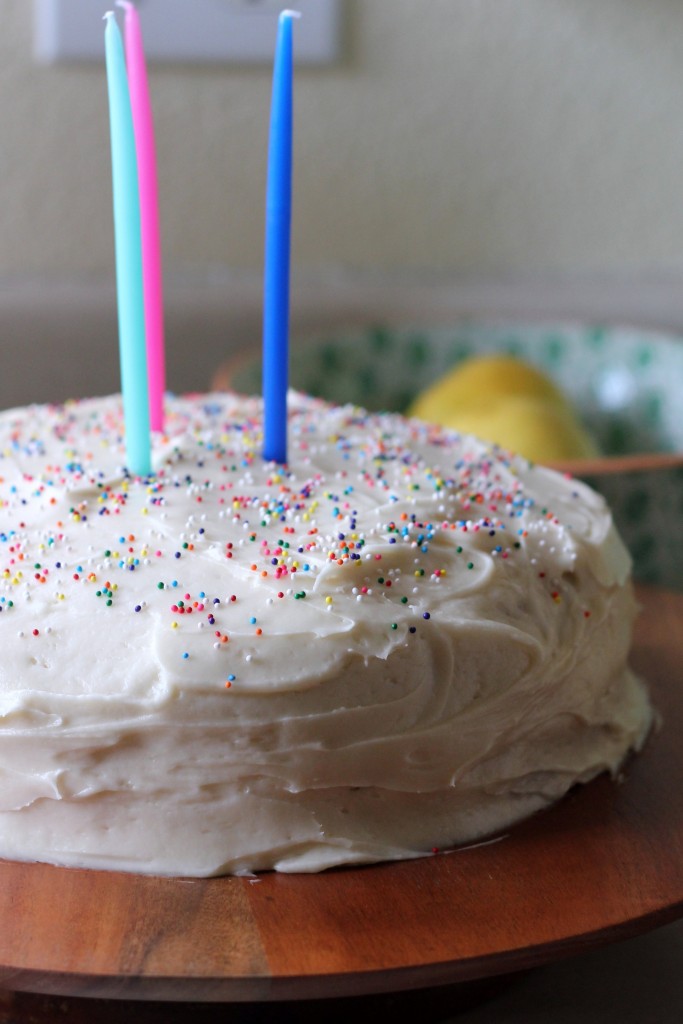 Clara's birthday cake. I almost made her this funfetti cake but decided last minute to try a new recipe for vanilla cake with a buttery cream cheese frosting and just add some sprinkles between the layers and on top. Simple and elegant and just whimsical enough for a 3-year-old. I was truly wowed by how delicious this vanilla cake turned out to be! Soft and tender and moist. The frosting (which I added a little more cream cheese and used a little less sugar in) was just right. Creamy and not at all too sweet. We all LOVED it!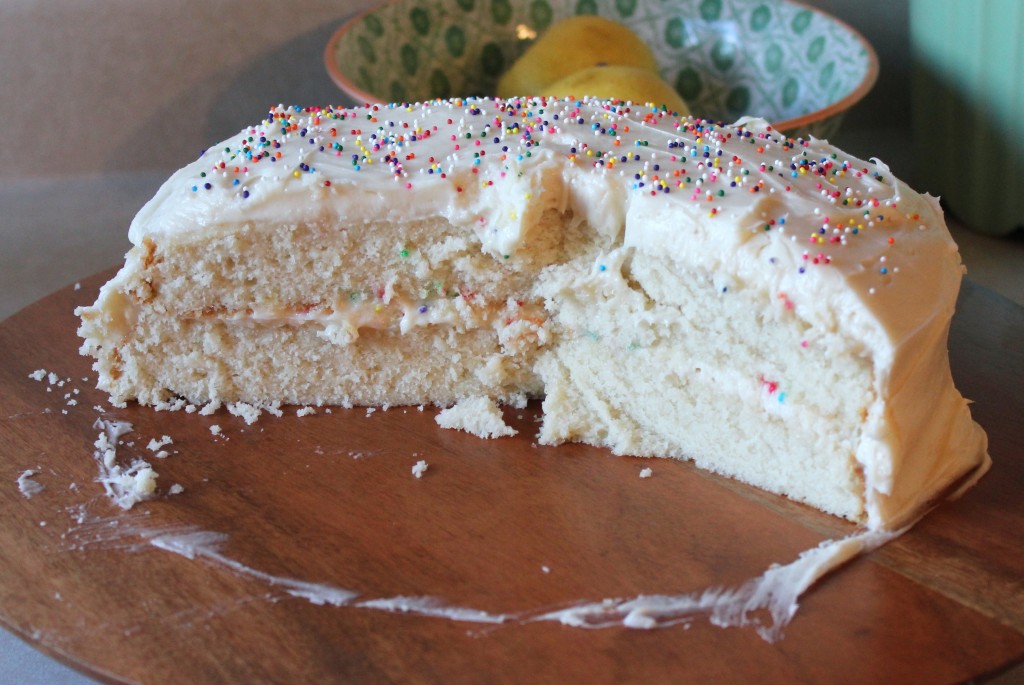 When I'm deciding whether to try a recipe from another blog, I always read through the comments. Besides rave reviews, many people wondered if they could use whole eggs instead of whites. The answer is that no, not in this case. It would change the texture, color, and final result. And the cake would probably take on a yellow hue. Save those yolks and make some ice cream too! I made a few slight adjustments for high altitude, which I've detailed below*. We had a bit of cake leftover, which I froze and then devoured the following week. It was just as amazing the second time around.
Vanilla Birthday Cake
INGREDIENTS
Cake Batter:
2 cups all-purpose flour
2 tsp. baking powder
1/4 tsp. salt
12 Tbsp. (1 1/2 sticks) unsalted butter, softened
1 1/2 cups granulated sugar
6 large egg whites, at room temperature
3/4 cup whole milk, at room temperature
1 1/2 tsp. vanilla extract
1/2 tsp. almond extract
Cream Cheese Frosting:
12 Tbsp. (1 1/2 sticks) unsalted butter, softened
8 oz. cream cheese, at room temperature
4 cups powdered sugar (to taste)
1 Tbsp. vanilla extract
Pinch salt
DIRECTIONS
1. Position a rack in the middle of the oven and preheat to 350 degrees F. Spray two 8 or 9-inch cake pans with nonstick cooking spray. Cut two 8 or 9-inch rounds of parchment or wax paper and line the bottom of each pan; spray the paper with nonstick spray. (To measure the parchment paper, just trace the bottom of the pan.)
2. In a medium bowl, whisk together the flour, baking powder, and salt.
3. Place the butter and sugar in the bowl of a heavy-duty mixer fitted with the paddle attachment and beat on medium speed for about 5 minutes, or until very soft and light. Beat in the vanilla and almond extracts.
4. Meanwhile, whisk together the egg whites and milk by hand in a medium bowl until just combined.
Reduce the mixer speed to low and beat in one-quarter of the flour mixture, then one-third of the milk mixture, stopping and scraping down the bowl and beater after each addition. Beat in another quarter of the flour, then another third of the milk mixture. Scrape again. Repeat with another quarter of the flour and the remaining milk mixture; scrape. Finally, beat in the remaining flour mixture.
5. Scrape the bowl with a large rubber spatula. Don't worry if the the batter looks a little grainy. Pour the batter into the prepared cake pans and smooth the tops.
6. Bake the cakes for about 30 minutes, until they are well risen and set on top and a toothpick inserted into the center emerges clean. Cool the cakes in the pans on rack for 5 minutes, then unmold onto rack to finish cooling right side up (keep parchment paper underneath cake layers so they don't stick to rack).
7. When cake layers are completely cool, transfer to cake plate and frost with vanilla buttercream.
8. To make the frosting: In the bowl of an electric mixer, cream the butter and cream cheese until creamy and well combined. Gradually add the confectioners' sugar, then beat in the vanilla and salt. If the frosting is too thick, add 1-2 tablespoons of milk or cream.
* for high altitude (~7000 feet): increase baking temp to 375 F, decrease baking time to ~25 min., + 3 Tbsp. flour, halve baking powder, + 2-3 Tbsp. milk, -1 1/2 Tbsp. sugar
(Adapted from Once Upon a Chef)