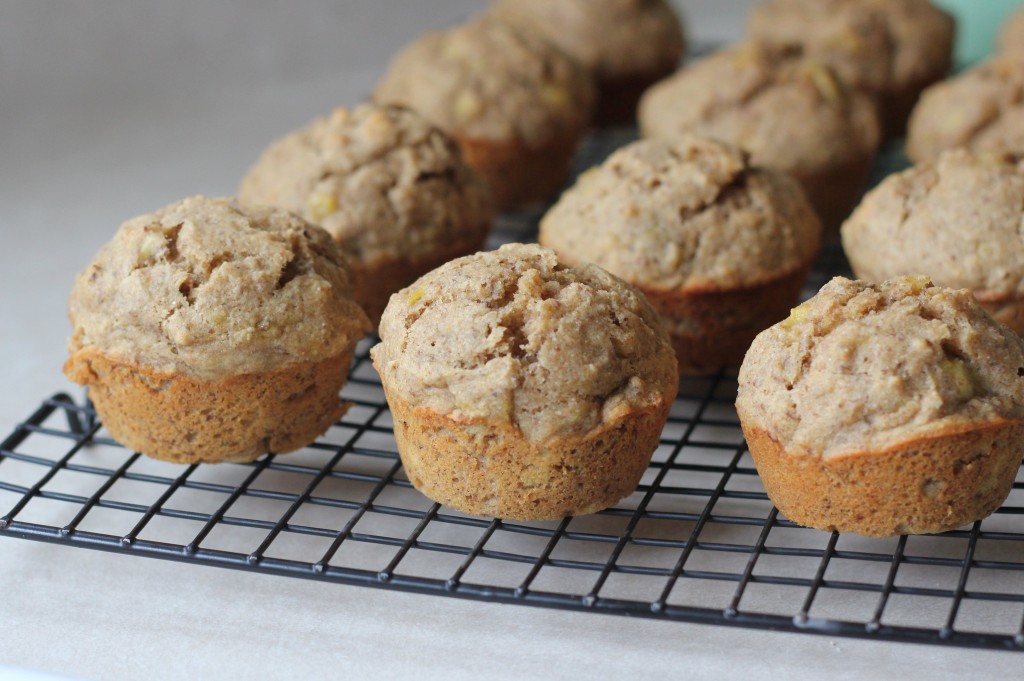 A basic banana muffin (or bread if you bake it as a loaf), made with 100% whole wheat (plus flax) and a touch of honey. These don't taste nearly as healthy as they are. They're soft and plenty sweet and lightly spiced (add the cinnamon!!). Enjoy them warm and then freeze the leftovers- they'll stay fresh much longer and you can pull one out of the freezer for a snack anytime!
Whole Wheat Banana Bread/Muffins
INGREDIENTS
2 ¼ cups whole-wheat flour (I replaced 1/4 cup flour with ground flaxseed)
¾ tsp. baking soda
¼ tsp. salt
3 ripe bananas, mashed
¼ cup plain yogurt (I used nonfat plain Greek yogurt)
¼ cup honey
2 eggs
⅓ cup oil (I used melted coconut oil)
1 tsp. vanilla
1 tsp. cinnamon (optional)
DIRECTIONS
1. Preheat oven to 350 F and light coat a muffin pan with cooking spray.
2. Whisk together the flour, baking soda, and salt (and cinnamon if using).
3. In a separate bowl mix mashed bananas with yogurt, honey, eggs, oil, and vanilla.
4. Fold the banana mixture into the flour mixture until blended. Do not overmix.
5. Pour batter into prepared pan.
6. Bake in preheated oven for about 15 minutes, until a toothpick inserted into the center of a muffin comes out clean. Remove muffins from the pan to cool on a wire rack.
NOTE: This recipe can be made into a loaf. Bake in a loaf pan for ~50 min.
*high altitude adjustments (~7000 feet): increase oven temperature to 375 F, halve baking soda
Makes 12 large muffins.
(Adapted from 100 Days of Real Food)