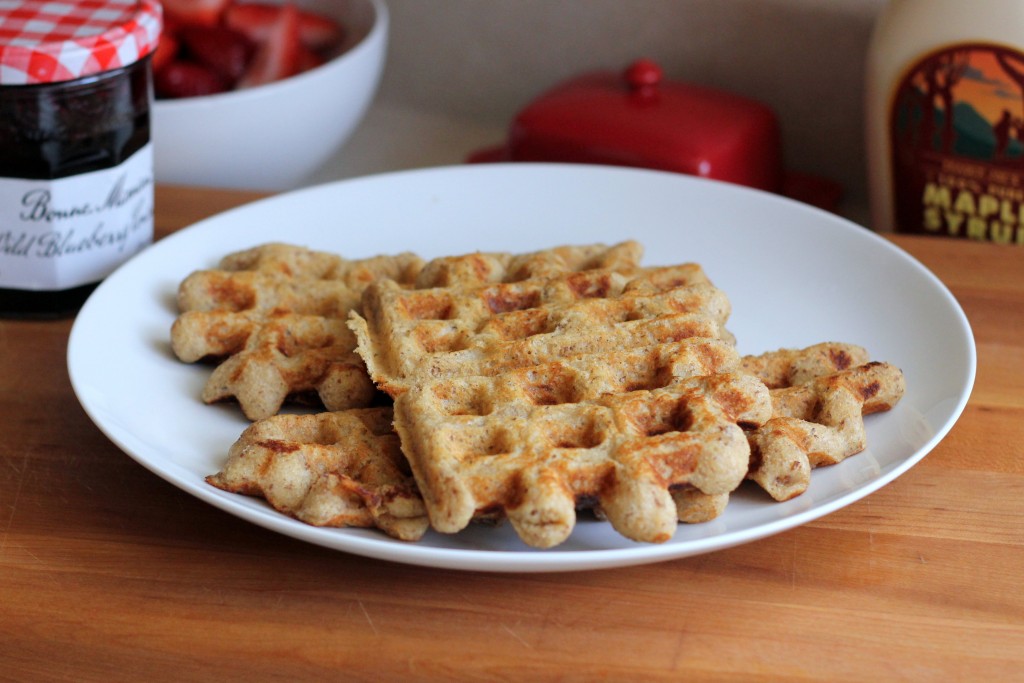 If you're looking for a healthier waffle recipe, here it is. These waffles are whole wheat (or whole grain if you want to mix up the flours, add some flax or oat, etc.) but still light and fluffy. King Arthur suggests replacing a few tablespoons of the liquid with orange juice to tone down the intensity of the whole wheat. I've tried it and not noticed much difference, but it you're using regular whole wheat (as apposed to white whole wheat which has a lighter texture and flavor) I'd suggest it. You can use butter or vegetable or coconut oil. You can replace with milk with buttermilk (might need to thin it a bit with some water) or a diary-free substitute like almond milk. And the recipe works in a regular or Belgian waffle iron. I always add a bit of vanilla and cinnamon for extra deliciousness.
Whole Wheat Waffles with Flax
INGREDIENTS
1 1/2 cups white whole wheat flour (I replaced 1/4 cup flour with ground flaxseed)
2 tsp. baking powder
1/2 tsp. salt
2 Tbsp. sugar
1 large egg
1 1/2 cups lukewarm milk (can replace 2 Tbsp. milk with orange juice for a milder wheat flavor)
1/3 cup melted butter or oil (canola, grapeseed, coconut)
1 tsp. pure vanilla extract (optional)
1/2 tsp. cinnamon (optional)
DIRECTIONS
1. Preheat your iron while you make the waffle batter.
2. Whisk together the flour, baking powder, salt, sugar, and cinnamon (if using).
3. In a separate bowl, whisk together the egg, milk, and butter or oil, and vanilla (if using).
4. Mix together the wet and dry ingredients, stirring just until combined. The batter will be a bit lumpy; that's OK.
5. Cook the waffles as directed in the instructions that came with your waffle iron.
Makes about 4 large Belgian waffles, more if using a regular waffle iron.
(Adapted from King Arthur)