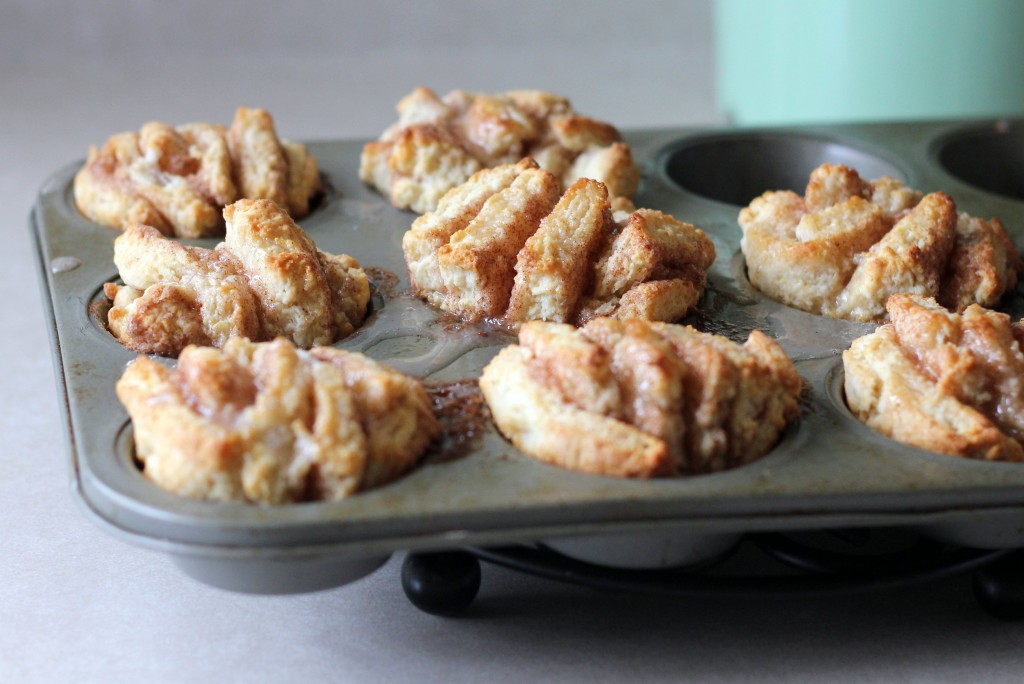 My mom made us these delicious cinnamon-sugar biscuits many times when I was a kid. And I had forgotten all about them (for over a decade!) until she mentioned making them recently. So, of course, I requested the recipe and have made them several times since. Think of them as cinnamon rolls (minus the yeast and hours of rise time) in biscuit form. They can be baked from scratch in about a half hour (meanwhile I scramble some eggs, heat some sausage links, you get the idea…). One of my favorite breakfast treats!
I didn't read the recipe too closely because sometimes I just assume I know what I'm doing. (I often don't.) And so I added much too much milk, making my glaze too thin. And I didn't remove the muffins from the tin before drizzling the runny glaze over top. They still tasted great, but next time I'll follow my own instructions!
Cinnamon Biscuit Fans
INGREDIENTS
Biscuits:
2 cups all-purpose flour
2 Tbsp. sugar
3 tsp. baking powder
1/2 tsp. salt
1/3 cup cold butter
3/4 cup milk
3 Tbsp. butter, softened
3 Tbsp. sugar
1 tsp. ground cinnamon
Glaze:
1/2 cup powdered sugar
2-3 tsp. milk
1/4 tsp. pure vanilla extract
pinch cinnamon, nutmeg, cloves, etc. (optional)
DIRECTIONS
1. Heat oven to 425 F. Grease 8 regular-size muffin cups.
2. In large bowl, mix flour, 2 Tbsp. granulated sugar, the baking powder and salt. Cut in firm butter using pastry blender (or pulling 2 table knives through ingredients in opposite directions), until mixture particles resemble fine crumbs. Stir in just enough milk so dough leaves side of bowl and forms a ball.
3. Turn dough onto lightly floured surface. Knead lightly 10 times. Roll into 12×10-inch rectangle. Spread 3 Tbsp. butter over rectangle. Mix 3 Tbsp. granulated sugar and the cinnamon; sprinkle over rectangle. Cut rectangle crosswise into 6 (10×2-inch) strips. Stack strips; cut crosswise into 8 pieces. Place cut sides up in muffin cups.
4. Bake for about 15 minutes or until golden brown. Immediately remove from muffin cups to cooling rack.
5. In medium bowl, mix all glaze ingredients until smooth and thin enough to drizzle. Drizzle over warm biscuits. Serve warm.
Makes 8 biscuits.
(Adapted from Betty Crocker)