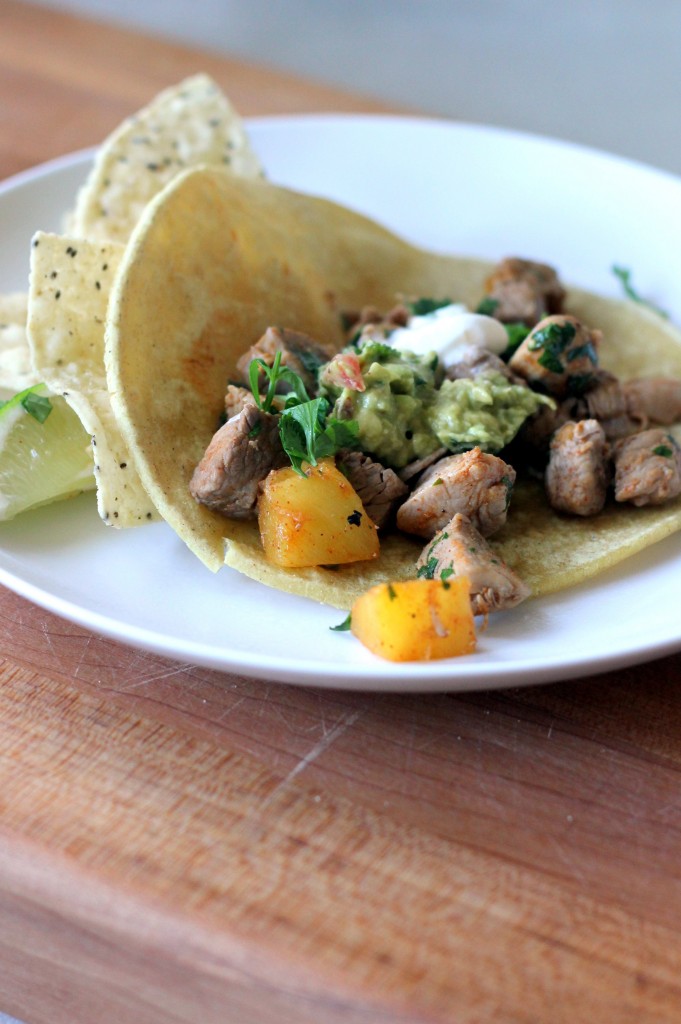 I've found a lot of favorite new recipes on Mel's Kitchen Cafe recently. This one I've already made twice and know it'll be a frequent repeater because it's absolutely yummy (especially with ancho chili powder- you must try it!) and comes together so so quickly. Pork tenderloin might be my favorite cut of meat- it's super lean and still has so much flavor. These pork tacos are sweet (thanks to the pineapple/juice) and just a bit spicy (from the chili powder/cayenne) and amazingly tender. We wrapped the sweet and spicy pork filling in warm corn tortillas (the Tortillaland uncooked corn tortillas from Costco) and topped them with salsa verde, a touch of sour cream, and guacamole.
Sweet and Spicy Pork and Pineapple Tacos
INGREDIENTS
2 lbs. pork tenderloin, trimmed and cut into 1-inch cubes
salt and freshly ground black pepper
1 Tbsp. olive oil
4 cloves garlic, minced
1 tsp. ground cumin
2 tsp. chili powder (I used ancho chili powder because I love the flavor)
pinch of cayenne pepper (more to taste, if wanted)
1/4 cup pineapple juice
3 cups diced pineapple (fresh or frozen preferred to canned)
3 Tbsp. chopped fresh cilantro
warm corn or flour tortillas, for serving
salsa verde, for serving (optional)
sour cream, for serving (optional)
guacamole or avocado, for serving (optional)
DIRECTIONS
1. Heat the oil in a large, nonstick skillet over medium heat. Sprinkle salt and pepper over the pork pieces and add them to the hot skillet, browning on each side until golden (the pork doesn't need to cook all the way through in this step, just get a nice color on all the pieces).
2. Stir in the garlic, cumin, chili powder and cayenne and cook for 1-2 minutes, stirring constantly. Add the juice and pineapple and simmer the mixture until the pork is just cooked through, 5-8 minutes.
Stir in the cilantro. Serve with corn or flour tortillas and salsa, sour cream, and guacamole (all optional).
Serves 8 (I halve it to serve four.)
(Adapted from Mel's Kitchen Cafe)