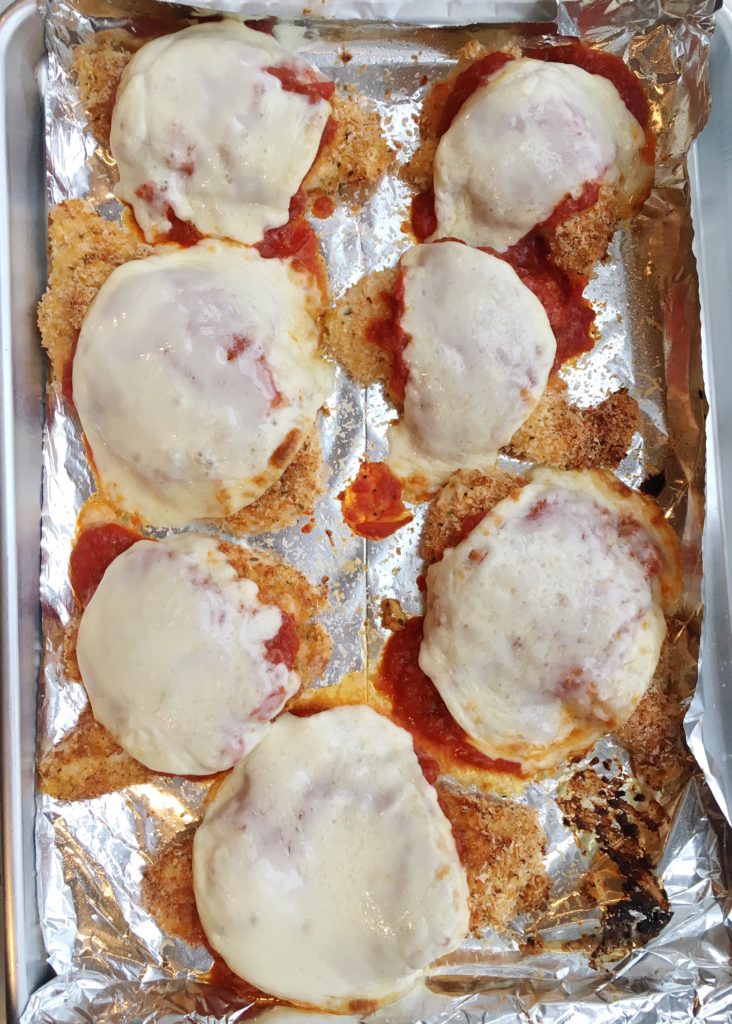 I made this sheet pan chicken Parmesan multiple times this past year. I like that it's not fried but still crisp. You wait to add the sauce and cheese until the last few minutes in the oven so the panko coating stays nice and crusty. Line your sheet pan with foil and clean-up is easy.
The marina sauce you use here makes a huge difference so choose your favorite. We love Rao's Homemade Marinara but it's expensive ($8-10 full price depending on the size of the jar) so I buy it when I find it on sale and savor every drop. And then I freeze leftover sauce and use it as pizza sauce, make turkey meatballs subs, etc.
This chicken parm can be served with pasta (my kids' and husband's preference) or with crusty bread (my choice) or just as is, with a side of veggies or salad. We were having the leftovers for lunch today and Clara told me that when she grows up she would like me to give her the recipe. Hopefully it'll still be right here for her when that day comes!
Sheet Pan Chicken Parmesan
INGREDIENTS
1  1/2 cups panko breadcrumbs
2 tsp. garlic powder
2 tsp. dried oregano
2 tsp. smoked paprika
1 tsp. kosher salt
1/2 cup all-purpose flour
1/2 tsp. freshly ground black pepper
2 large eggs
4-6 boneless, skinless chicken breasts or cutlets, each about 1/2 inch thick (about 1 1/2- 2 lbs. total)
1 jar (24 oz.) good-quality marinara sauce (our favorite is Rao's)
6-8 slices provolone cheese (I love smoked provolone, mozzarella will also work)
1/4 cup grated Parmesan (or Pecorino) cheese
DIRECTIONS
1. Preheat oven to 400 F with a rack in the upper third. Generously mist a sheet pan with cooking spray.
2. Stir together the panko, garlic powder, oregano, paprika, and 1/2 teaspoon of the salt in a large bowl to combine. In another bowl, whisk together the flour and remaining 1/2 teaspoon salt, and the pepper. In a third shallow bowl, whisk together the eggs.
3. Dip each chicken cutlet first in the flour mixture, shaking off any excess, then in the egg, and finally in the panko mixture, patting to coat thoroughly on both sides. Place the breaded chicken cutlets on the prepared pan. Mist the chicken with cooking spray to lightly coat.
4. Bake the chicken until the panko has browned and the cutlets are almost entirely cooked through (they'll no longer feel squishy when you poke them), about 12-15 minutes.
5. Remove the baking sheet from the oven. Top each chicken cutlet with about 1/2 cup marinara sauce (use up the jar),  the provolone and the Parmesan, and return to the oven. Bake until the cheese is melted and bubbly, an additional 5-10 minutes. Serve hot.
Serves 4-6.
(Adapted from Shutter Bean, originally from Sheet Pan Suppers)
*post contains affiliate links