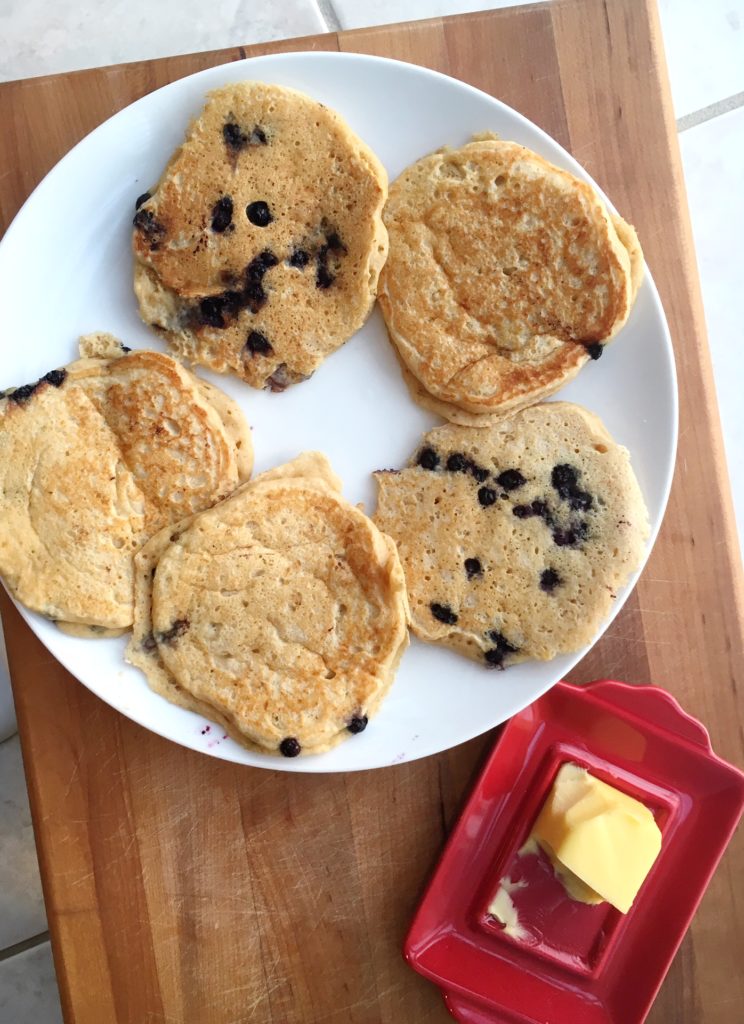 These have become our favorite pancakes lately. They're light and fluffy, despite being 100% whole wheat (I recommend white whole wheat flour) and easy to adapt with whatever fruit/spices/add-ins you want. This recipe calls for making a mix to keep in the pantry which makes them even easier for a weekday breakfast, but you can of course just make a single batch or two at a time. I almost always add the vanilla extract and a dash of cinnamon. We love them filled with wild blueberries and/or topped with vanilla Greek yogurt and more fruit- banana, strawberries, etc. One morning I served them with juicy ripe peaches, maple syrup and creme fraiche- oh my goodness, amazing!
Whole Wheat Pancake/Waffle Mix
INGREDIENTS
Pancake/Waffle Mix:
6 cups white whole wheat flour
1/3 cup sugar
2 Tbsp. baking powder
1 Tbsp. baking soda
2 tsp. salt
Note: makes six servings, for a single batch divide by 6 = 1 cup flour, scant 1 Tbsp. sugar, 1 tsp. baking powder, 1/2 tsp. baking soda, 1/3 tsp. salt
Whole Wheat Pancakes/Waffles:
1 large egg, whisked
1 cup buttermilk (milk or almond milk will also work)
1 Tbsp. vegetable or canola oil (I usually use melted butter or coconut oil)
1 cup pancake mix
optional add-ins:
dash of cinnamon or nutmeg
1/2 tsp. pure vanilla extract
fresh or frozen blueberries or other fruit (peaches, bananas, strawberries, blackberries, etc.)
lemon or orange zest
chocolate chips
DIRECTIONS
Pancake/Waffle Mix:
1. Mix all ingredients together and store in an airtight container in a cool, dry place.
To Make Pancakes/Waffles:
1. Whisk the egg, buttermilk and oil (or butter) and any of the optional add-ins in a large bowl.
2. Whisk in the pancake mix until just combined.
3. Heat a large pan or griddle over medium heat and grease with butter or oil.
4. Pour several tablespoonfuls of the pancake mixture onto the griddle (you can top with fruit or chocolate chips at this point if using them), making as many pancakes as will fit and cook for about 2 minutes, until bubbles form on top and the bottoms are golden brown.
5. Flip the pancakes and cook for one minute longer and serve.
Note: Mixture can also be used in a waffle iron following manufacturers directions. Pancakes/waffles can be frozen and reheat well in the toaster.
Makes six batches, each batch serves 4.
(Adapted from Weelicious)