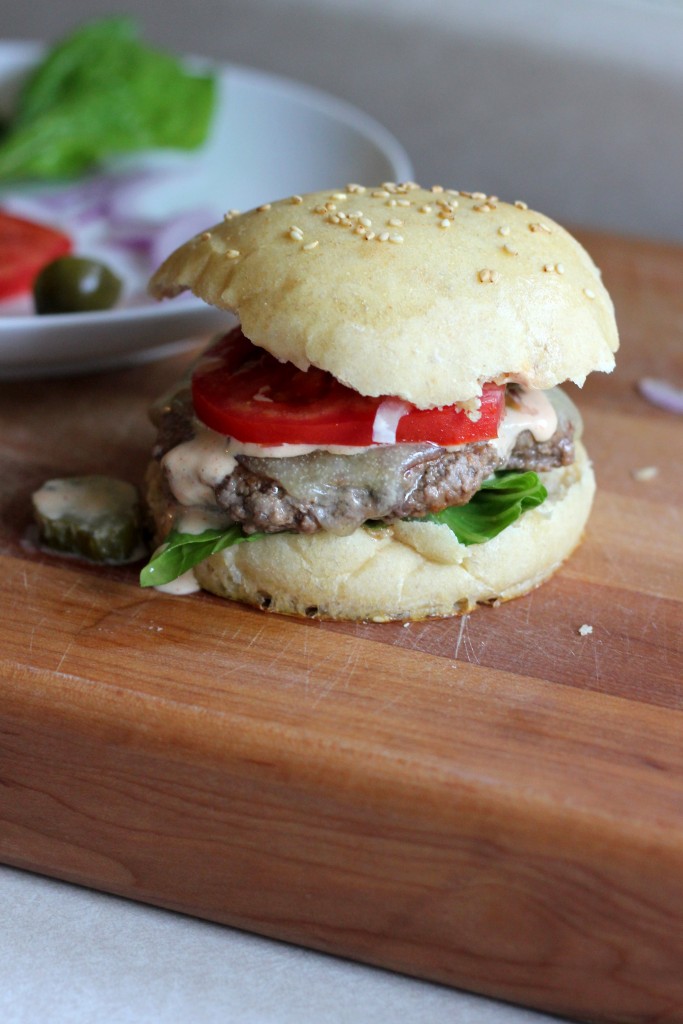 I love a good burger. Frequently I make them with turkey in an effort to be healthy and because I very much like a turkey burger. Often I top them with fancy things like smoked cheeses and sauteed mushrooms, sometimes honey mustard, other times pesto and arugula. But this is my (our) favorite classic burger. Not gourmet, but special enough to get excited about.
We start with grass-fed beef mixed with a homemade fry sauce (easy! and soooo good). I form the patties into balls and then smash them thin as they cook on a flat grill pan. I take them off the pan just before they're cooked through, and then top with a slice of cheddar to melt. Sometimes I'm lazy and just buy store bought buns, but if you can find the time these light brioche buns are amazing and worth the effort. Place the patty on a toasted bun, top with lettuce, tomato, pickles, onion, and more fry sauce. Devour. You'll likely have extra fry sauce so save it for those fries you serve on the side.
Smashed Burgers with Fry Sauce
INGREDIENTS
Burgers:
1 lb. ground beef (I buy 85% lean grass-fed beef)
2 Tbsp. fry sauce (see below)
salt and freshly ground black pepper
light brioche hamburger buns, for serving
lettuce, tomato, pickles, onion (raw or grilled), cheddar, etc., for serving
Fry Sauce:
1/4 cup mayonnaise
2 Tbsp. plain Greek yogurt (or more mayo)
2 Tbsp. ketchup
1 1/2 tsp. juice from a pickle jar
1 tsp. yellow mustard
1/4 tsp. smoked paprika
1/4 tsp. garlic powder
1/4 tsp. onion powder
DIRECTIONS
Burgers:
1. Place the ground beef in a large bowl. Add 2 Tbsp. of the prepared fry sauce (directions below). Season with salt and freshly ground black pepper. Mix until the sauce and seasoning is distributed throughout the meat. Divide into 4-6 equal portions and roll the hamburger meat into a ball. Store in the refrigerator until ready to use.
Note: I make six burgers from 1 lb. meat because they get too large for the buns when flattened if I make them bigger. You can always stack two patties on one bun!
2. Preheat a flat grill pan/griddle or nonstick skillet to medium-high heat. Coat with oil, butter, or cooking spray. Place the balls of hamburger on the pan (making sure each has enough space around it to spread out) and flatten with the top of the grill or another pan/plate. Cook, flipping halfway through if needed (my Griddler heats on the top and bottom, like a panini press, so flipping isn't necessary) until the meat is just cooked through.
3. Place burgers on buns and top with lettuce, tomato, pickles, onion, cheese, and fry sauce. Yum!
Fry Sauce:
1. Combine ingredients in a medium bowl and whisk until smooth. Refrigerate until ready to use.
Makes 4-6 burgers.
(Adapted from Smitten Kitchen)