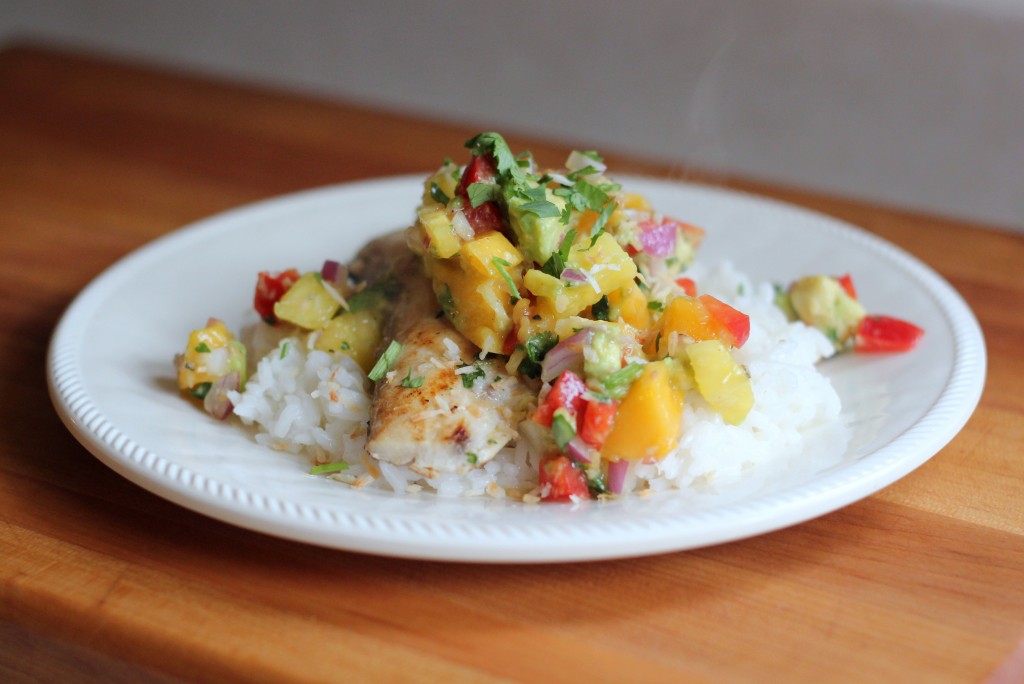 This is really three recipes in one. And each is awesome on its own. We snacked on the tropical salsa with blue corn tortillas chips. The coconut rice could accompany grilled chicken. It's just delicious. And the grilled mahi, marinated in olive oil, orange juice, lime juice, garlic, and cilantro is fresh and flavorful. It's all so good. Don't let your lack of a grill stop you, the fish could be roasted, broiled, or pan-fried as well. Here's to summer and hopefully many more meals like this!
Grilled Mahi with Tropical Salsa and Coconut Rice
INGREDIENTS
Mahi:
1/2 cup sliced yellow onions
1/4 cup olive oil
2 Tbsp. orange juice
2 Tbsp. lime juice
2 Tbsp. fresh cilantro
5 cloves garlic, smashed
1 tsp. salt
1 tsp. cumin
pinch cayenne
4 (~6 oz.) mahi mahi fillets
toasted coconut flakes, garnish
chopped cilantro, garnish
Coconut Rice:
1 cup coconut milk (I used a full can of light coconut milk and reduced the water to 1/2 cup)
1 1/2 cups water
1 tsp. salt
3/4 tsp. sugar
1 cup long grain white rice
3 Tbsp. chopped fresh cilantro
Tropical Salsa :
1 ripe mango, peeled, seeded, and diced
1 ripe avocado, peeled, seeded, and diced
1/2 cup diced fresh pineapple
1/4 cup minced red onions
1/4 cup minced red bell peppers
3 Tbsp. chopped fresh cilantro
1 Tbsp. fresh lime juice
2 tsp. minced jalapeno (or a pinch of cayenne pepper)
1 tsp. minced garlic
salt and freshly ground black pepper, to taste
DIRECTIONS
1. In a bowl, combine the onions, oil, orange and lime juices, cilantro, garlic, salt, cumin, and cayenne. Place the fish in a large, non-reactive baking dish. Pour the marinade over the fish, cover and refrigerate for up to 1 hour.
2. Preheat a grill (or indoor grill pan), and lightly oil the grill rack with vegetable oil. Remove the fish from the marinade. Place on the oiled grill and cook until marked, 45 seconds to 1 minute. Turn carefully with a spatula and cook until the fish is just cooked through, about 4 minutes, depending upon thickness. Remove from the grill.
3. Spoon the coconut rice into the center of 4 large plates. Arrange 1 fillet onto each serving of rice and top with the Tropical Salsa. Garnish with toasted coconut and cilantro, and serve.
Coconut Rice:
1. In a saucepan, combine the coconut milk, water, salt, and sugar. Bring to a boil. Add the rice, stir well, and reduce the heat to medium-low. Cover and simmer undisturbed until the liquid is absorbed and the rice is fluffy, about 20 minutes. Remove from the heat and let sit without stirring for 10 minutes.
2. Fluff with a fork and add the cilantro. Adjust seasoning, to taste. Serve hot.
Tropical Salsa :
1. Combine the mango, avocado, pineapple, onions, bell peppers, cilantro, lime juice, jalapeno (or cayenne), garlic, and salt and pepper in a bowl and gently fold to combine. Adjust seasoning to taste. Let sit for 30 minutes before serving for the flavors to blend.
Serves 4.
(Adapted from Food Network)