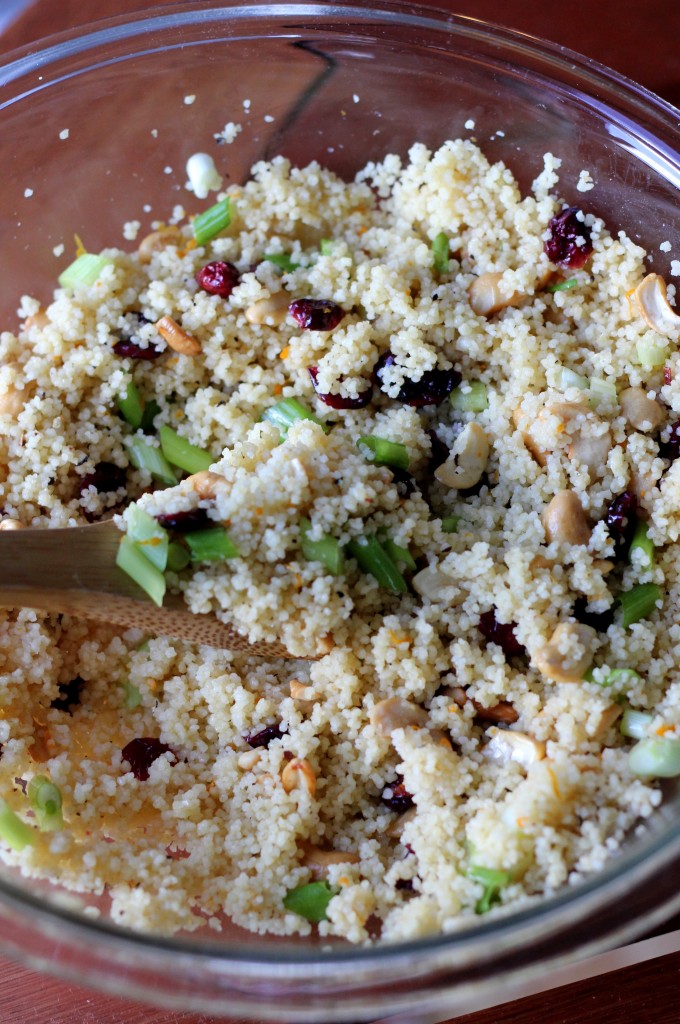 I realized while typing out this recipe that it would make a very festive Christmas side dish. And here we are on the first 80+ degree day of summer! You don't have to wait for Christmas to make this couscous. Dotted with green onions, sweet dried cranberries, and roasted cashews, and tossed in a maple-orange vinaigrette, it's light and fresh and perfect year-round! I served it with Parmesan and panko crusted thin-cut pork chops and steamed green beans. It would be excellent with chicken kebabs or grilled shrimp or fish or just about anything.
Orange Couscous with Cranberries and Cashews
INGREDIENTS
3/4 cup couscous (I used whole wheat)
1 cup water or low-sodium chicken/vegetable broth
zest of 1/2 orange
2 Tbsp. fresh orange juice
1 tsp. pure maple syrup
1 Tbsp. olive oil
1/3 cup dried cranberries
1/3 cup roasted cashews, roughly chopped
2-3 green onions, thinly sliced
salt and freshly ground black pepper, to taste
DIRECTIONS
1. Put the couscous in a medium bowl. In a very small saucepan, bring the broth and a pinch of salt to a boil over high heat, then pour it over the couscous. Tightly cover the bowl with plastic wrap and let stand until the couscous is tender and the broth is absorbed, about 5 minutes. Gently scrape and fluff the couscous with a fork and serve as is (stir in a little butter or olive oil, if you like).
2. Meanwhile, in a small bowl, whisk together the orange zest, orange juice, maple syrup, and oil, then season with salt and pepper.
3. Pour the dressing over the warm couscous and gently toss to combine. Add the cranberries, cashews, and scallions and gently toss again. Adjust the seasonings to taste and serve.
Serves 4.
(Adapted from Keepers)