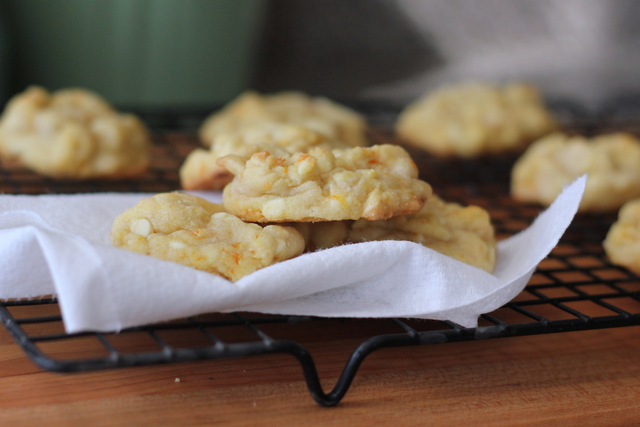 I've shared these cookies with a few friends now and it's unanimous: they're awesome. They really do capture that orange-vanilla "creamsicle" flavor. Just as I was writing this I began wondering why I haven't made a creamsicle flavored ice cream and then I found this recipe which I will for sure be trying shortly. Once it stops snowing.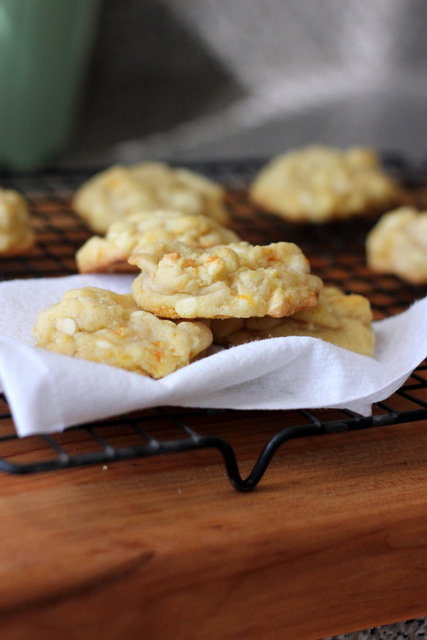 Orange Creamsicle Cookies
INGREDIENTS
2 1/2 cups all-purpose flour
3/4 tsp. baking soda
1/2 tsp. salt
1 cup (2 sticks) butter, softened
1/2 cup sugar
1/2 cup brown sugar
1 large egg
1 tsp. pure vanilla extract
2 Tbsp. orange zest (approx. zest of 2 large oranges)
2 cups white chocolate chips
DIRECTIONS
1. Preheat oven to 375 F.
2. In a small bowl, combine flour, baking soda, and salt. In a large bowl, cream butter and sugars until light and fluffy. Beat in egg and vanilla until smooth. Gradually add the flour mixture until well combined. Stir in the orange zest and white chocolate chips.
3. Drop rounded spoonfuls onto cookie sheets (do not flatten cookies) and bake in preheated oven for 6-10 minutes (mine took 7 minutes) until golden brown around the edges. Remove from the cookie sheets to a wire rack to cool.
Makes 2-3 dozen cookies.
(Adapted from The Girl Who Ate Everything)