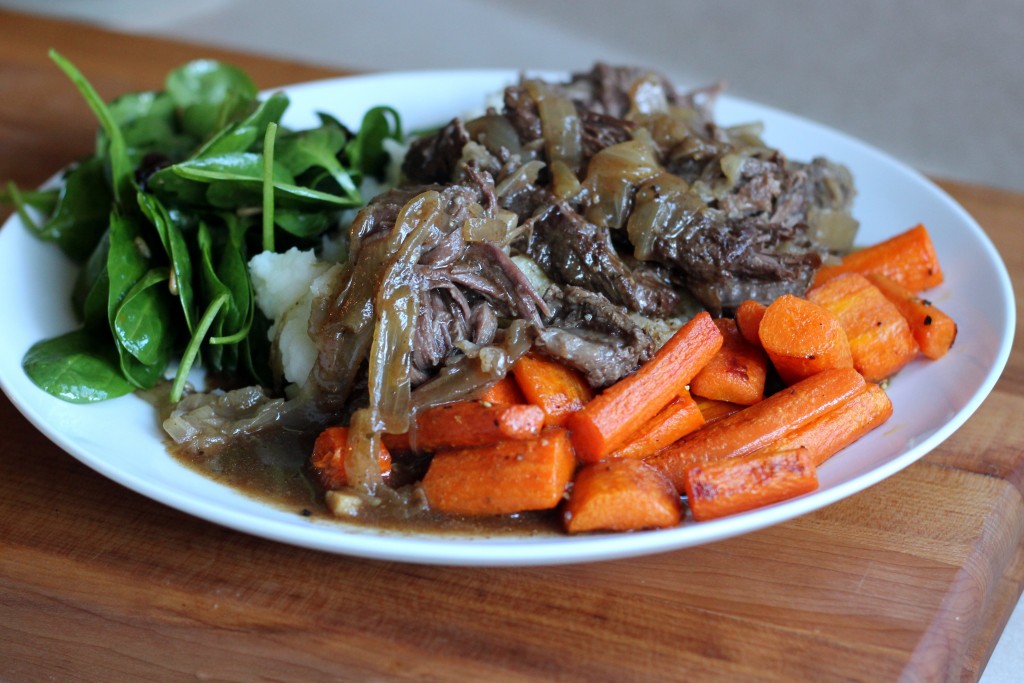 Pot roast with Dijon mustard, maple syrup, balsamic vinegar, even bacon if you choose. I served this one for our Easter dinner and we loved it. I didn't bother with the bacon (mostly out of laziness) and it was wonderful. I can only imagine how crazy good it would be with bacon. You sear the beef and brown the onions in the morning and after 8 hours in the slow-cooker your dinner is ready. It just takes a few minutes to simmer and reduce the juices into gravy. Excellent over mashed potatoes with roasted carrots and a simple spinach salad (as pictured). Leftovers we had Chicago-style, piled high on a bun with giardiniera and sauce on the side for dipping.
Slow-Cooker Maple Dijon Pot Roast
INGREDIENTS
2 1/2- 3 lbs. beef chuck roast
4-5 slices bacon, diced (optional- I used 2 Tbsp. olive oil)
2 yellow onions, peeled and sliced into half moons
1 1/2- 2 cups chicken stock
1 Tbsp. Dijon mustard
1 Tbsp. maple syrup
1 Tbsp. balsamic vinegar
1 tsp. paprika
1 tsp. kosher salt
freshly ground black pepper, to taste
fresh thyme, for garnish (or a few pinches dried thyme)
for serving: mashed potatoes, creamy grits, egg noodles, or roasted carrots, etc.
DIRECTIONS
1. Pat the beef dry with paper towels and season generously with salt and pepper.
2. Set a large Dutch oven or heavy skillet over medium-high heat. If using bacon, add the bacon and cook until some fat starts rendering and it begins to turn golden. Push the bacon to the sides and add the beef. If using oil, heat the oil with the pan before adding the beef. Sear both sides of the beef until golden brown, about 10 minutes per side, and transfer all the meat to the bowl of the slow cooker.
3. Pour off all but 2 tablespoons of the bacon fat (if necessary). Reduce heat to medium. Add the onions and cook until starting to soften, about 5 minutes. Pour in a few tablespoons of chicken stock and bring to a boil, scraping up any of the brown bits from the bottom of the pan. Pour the onions and pan juices into the bowl of the slow cooker.
4. In a separate bowl, whisk the remaining chicken stock, Dijon, balsamic vinegar, maple syrup, paprika, salt, and pepper until combined. Pour the liquid mixture over the roast. Close the lid and cook on LOW heat until the meat falls apart and is meltingly tender, about 8 hours.
5. Transfer the roast to a serving bowl or platter and cover with foil. Pour the cooking liquids into large saucepan and bring to a boil. Cook until the gravy is reduced to desired thickness. (I used a little cornstarch + water to help the gravy thicken.) Cut the roast into chunks and pour hot gravy over the top.
Serves 6-8.
(Adapted from TheKitchn)