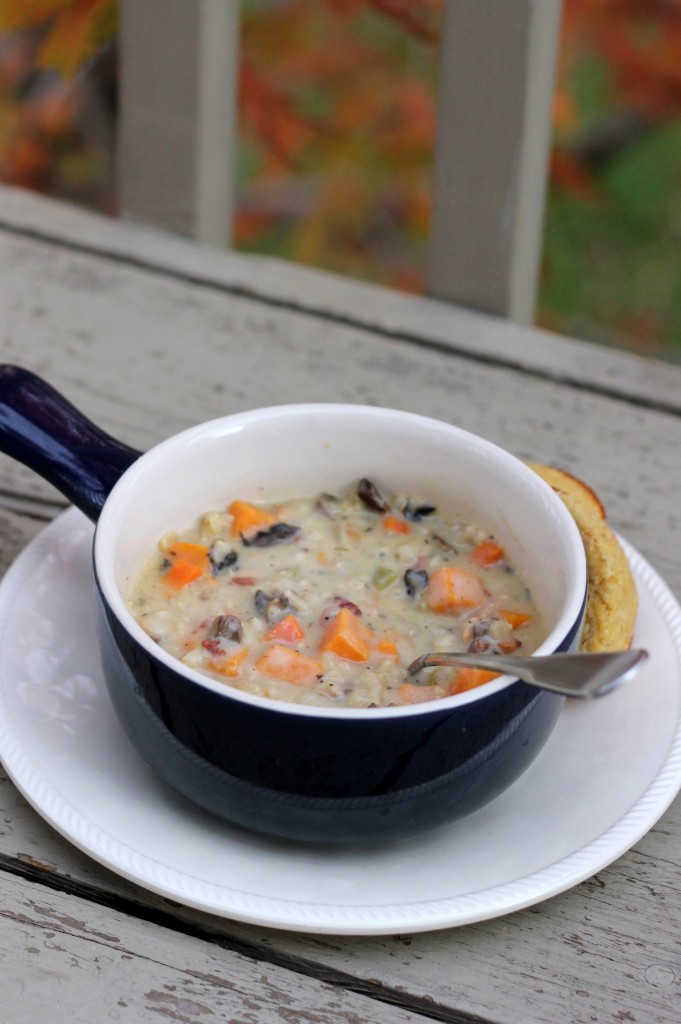 Clara has been sick for over 2 weeks now, which means little sleep for everyone but lots of time stuck at home to try new recipes. We missed a church Halloween party the first weekend of her illness (which has evolved through several phases now, to include a fever and cold and ear infections and obnoxious persistent cough- poor babe). I had planned to take my favorite Mushroom, Sweet Potato, and Smoked Gouda Chowder to the party we never attended. So a few days later I had all those ingredients sitting around when I found this recipe and decided to make it instead. It also features bacon and mushrooms and potatoes (I used sweet ones). But a little less rich without the Gouda and heartier with brown/wild rice and a few extra veggies. A little bacon goes a long way in this case and this chowder is wonderfully creamy and smoky and just the comforting meal we needed.
Bacon, Mushroom, and Wild Rice Chowder
INGREDIENTS
3 Tbsp. butter
4 oz. bacon, small dice (about 3/4 cup)
8 oz. white or cremini mushrooms, chopped or thinly sliced
1 medium yellow onion, diced
3 cloves garlic, minced
1 carrot, peeled and chopped
1 celery stalk, chopped
1 medium russet potato or sweet potato, peeled and chopped (I used a sweet potato)
2 cups cooked wild or brown rice (I used brown rice)
2 tsp. finely chopped fresh thyme leaves or 3/4 tsp. dried thyme
1/4 cup all-purpose flour
1 bay leaf
4- 6 cups homemade or low-sodium chicken or vegetable broth (I used 4 1/2 cups)
1 cup half-and-half (I used 1/2 cup heavy cream and 1/2 cup whole milk)
1 tsp. freshly squeezed lemon juice + more to taste
salt and freshly ground black pepper, to taste
DIRECTIONS
1. Melt 1 Tbsp. butter in a large saucepan or Dutch oven over medium heat until foaming. Add the bacon and cook, stirring occasionally, until crisp, about 5 to 6 minutes. Using a slotted spoon, remove the bacon to a paper-towel-lined plate; set aside.
2. Add the mushrooms to the saucepan, stir to coat in the bacon fat, and cook over medium heat, stirring rarely, until they begin to brown and the liquid they give off evaporates, about 8 minutes. Transfer to a small bowl; set aside.
3. Melt the remaining 2 Tbsp. butter in the saucepan over medium heat until foaming. Add the onion and garlic, season with salt and pepper, and cook, stirring occasionally, until the onion has softened, about 3 minutes. Add the carrot, celery, and potato, season with salt and pepper, and stir to combine. Cover with a tight fitting lid and cook, stirring occasionally, until the onions are tender, about 7 minutes.
4. Add the rice and thyme to the saucepan and stir to combine. Sprinkle the mixture with the flour. Continue cooking, stirring constantly, until the flour is no longer raw-tasting and a film of cooked flour coats the bottom of the pan, about 2 minutes.
Add the reserved mushrooms, bay leaf, and broth (I used 4 1/2 cups for a thicker chowder) and stir to combine. Increase the heat to medium high and bring to a gentle boil. Reduce the heat to low and simmer until the vegetables are cooked through, about 15 minutes.
5. Uncover the saucepan, stir in the half-and-half, bacon (reserve some for serving) and season with freshly ground black pepper. Let the chowder simmer, stirring occasionally, until slightly thickened and the flavors have combined, about 10 minutes. Stir in the lemon juice, taste, and season with more salt, pepper, and lemon juice as needed. Remove the bay leaf and serve garnished with the reserved bacon.
Serves 6.
(Adapted from CHOW)