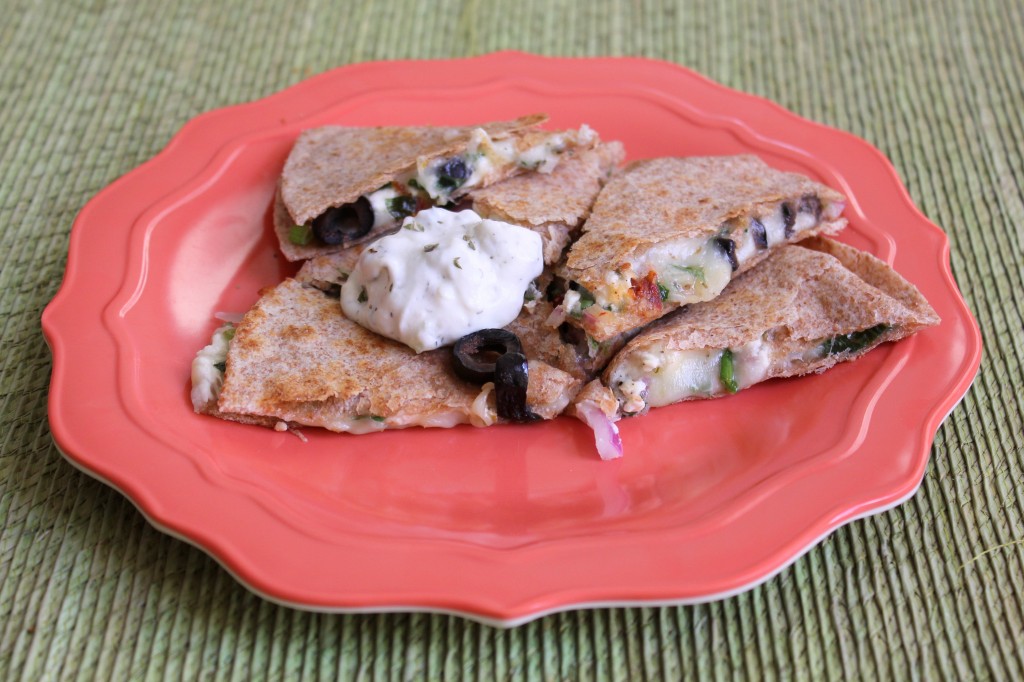 Not a particularly festive recipe for you today, but one of the many I've made these last few months I've been away. I'm cooking plenty, but I've lost the motivation to photograph and blog every detail of it. So you'll probably get a new recipe sporadically. I don't think I'll ever be as constant at posting as I was before Clara showed up. Life has changed.
But I think you'll enjoy today's recipe. Quesadillas are an easy last-minute meal that please everyone around here. These quesadillas have a Greek twist with Mediterranean veggies, chicken (if you wish), feta, and oregano. You can use mozzarella but I always prefer Monterrey Jack because it melts so smoothly. Add whatever other veggies (pepperoncini, maybe) or protein (how about chickpeas) you want and devour with hummus or tzatziki (cucumber-yogurt sauce) or tahini.
Greek Quesadillas
INGREDIENTS
whole wheat tortillas
olive oil, butter, or cooking spray
fresh spinach, chopped
red onion, diced (or green onion)
roasted red pepper, chopped (or tomatoes or sun-dried tomatoes)
sliced black olives (or kalamata)
chicken, chopped or shredded (optional)
mozzarella or Monterey Jack, grated
feta, crumbled
pinch oregano
pinch crushed red pepper flakes
hummus, tzatziki, or tahini sauce, for serving
DIRECTIONS
1. Warm a large skillet or griddle over medium heat. Brush with olive oil or butter or coat with cooking spray. Place a tortilla on top and sprinkle with cheese. Spread desired toppings over the cheese and sprinkle more cheese over the toppings. Top with a second tortilla. (Or you can spread the filling over half of a single tortilla and fold it over- makes for easier flipping!) Cook until the bottom of the quesadilla is golden brown and the cheese has begun to melt. Flip and cook until the other side is golden and the cheese has melted and is oozing out the sides. Slice and serve with sauce of choice.
(Adapted from Annie's Eats)