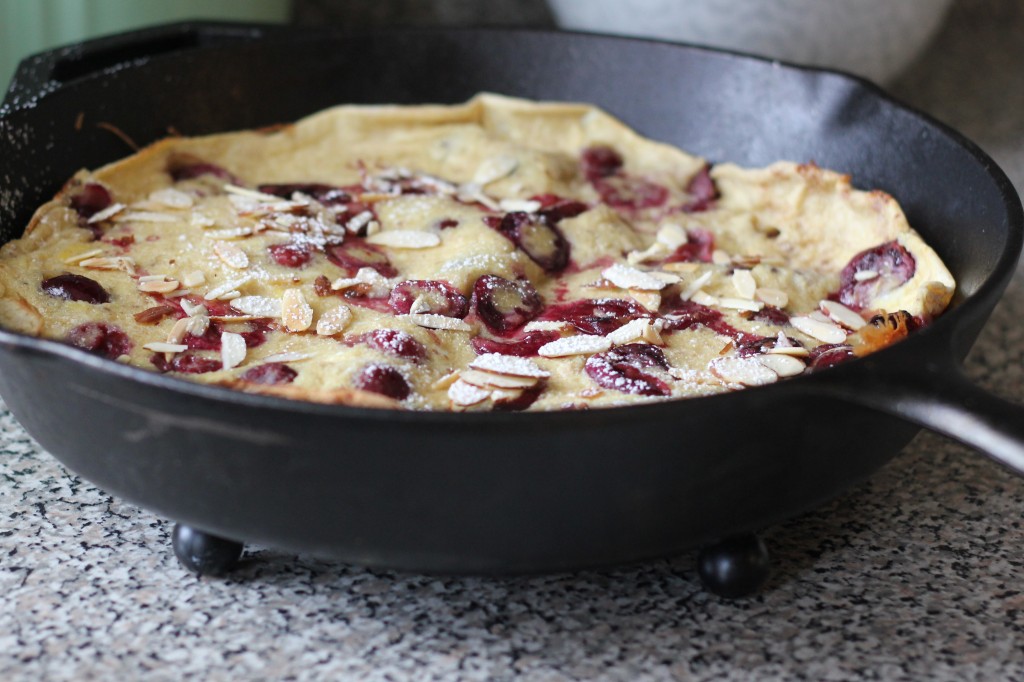 One last post coming to you from Chicago. Tomorrow we pack a truck and depart the city. Bittersweet, for sure. Sad to leave so many friends and favorite places behind, but ready to discover somewhere new. Before all the packing began and mountains of cardboard took over my kitchen, I made breakfast. I made two versions of puffed pancakes- one with vanilla, fresh blueberries, and cinnamon, and this one with cherries and toasted almonds. Dutch baby's (same thing, different name) are even easier than traditional pancakes. You just whisk everything together and pour it into a skillet- no flipping required. Plus, one recipe makes just the right amount for us 2 + toddler (with some browned chicken sausage, hash browns, and fruit on the side).
You can use fresh or frozen cherries here. Since I had a bowl of ripe cherries on my counter, I went with fresh. But a little secret: frozen cherries are often cheaper and usually come pre-pitted!! As usual, I made the batter with half whole wheat flour. When it comes to the almonds, it doesn't matter how you do it (I opted for the dry skillet on the stove method), just make sure you toast them. They taste and smell so much more amazing toasted than raw. Last of all, serve hot with lemon wedges,  powdered sugar, and a drizzle of warm maple syrup or honey.
Cherry Almond Dutch Baby
INGREDIENTS
3 large eggs
2 Tbsp. sugar
3/4 cup all-purpose flour (or half white flour and half whole wheat)
3/4 cup milk
1/2 tsp. almond extract
pinch salt
4 Tbsp. butter
1- 2 cups pitted sweet cherries, halved
1/3- 1/2 cup sliced almonds, toasted (toast in a dry skillet over medium-low heat, stirring occasionally, until golden and fragrant)
powdered sugar, lemon wedges, honey and/or maple syrup, all for serving
DIRECTIONS
1. Preheat oven to 425 F. Whisk eggs, sugar, flour, milk, almond extract and salt together until the batter is blended but lumpy; you can also do this in a blender. In a 12-inch ovenproof frying pan or cast iron skillet, melt butter. Add cherries and cook until warmed, about 2 minutes. Pour in batter and transfer to heated oven. Bake for 15-20 minutes, until puffed and golden brown.
2. Remove pancake from oven and quickly scatter with toasted almonds, dust with powdered sugar and squeeze lemon juice over. Serve in wedges, piping hot.
Serves 2-4.
(Adapted from Smitten Kitchen)