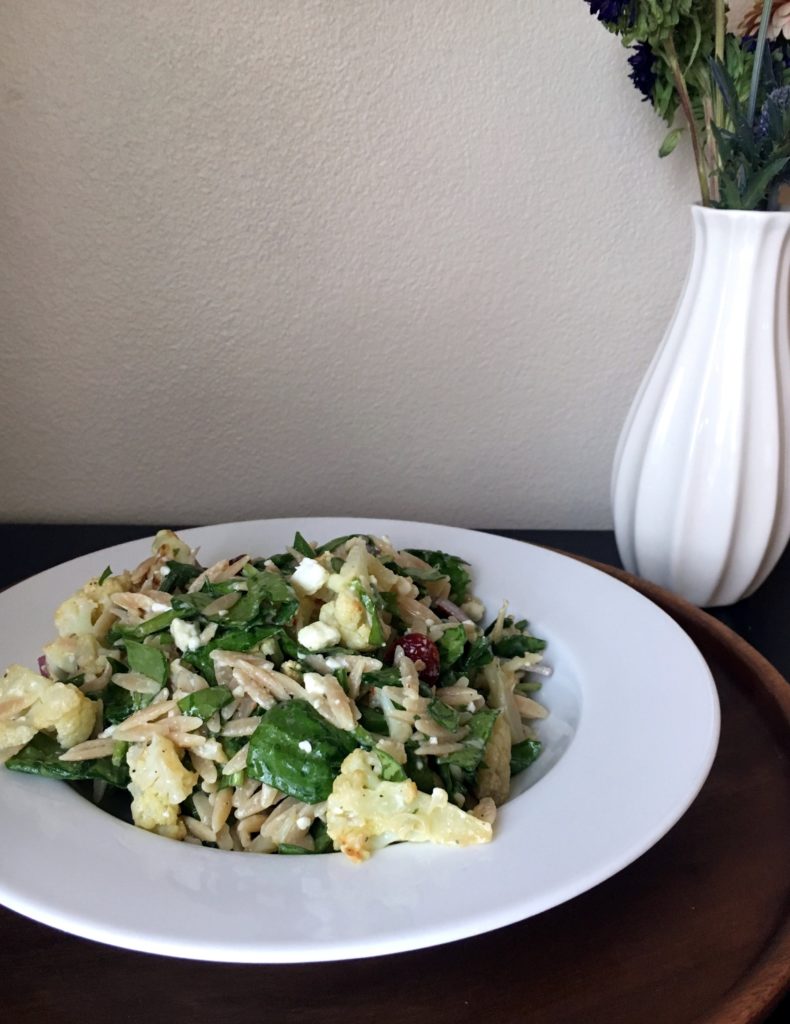 This isn't just a salad. It's got leafy green spinach, yes. But it's also pasta (orzo!) and roasted cauliflower, tangy feta, and tart dried cherries, all tossed in a honey lemon vinaigrette. It's awesome. I've made it twice this month now because all of us (husband, baby, ALL of us) loved it so.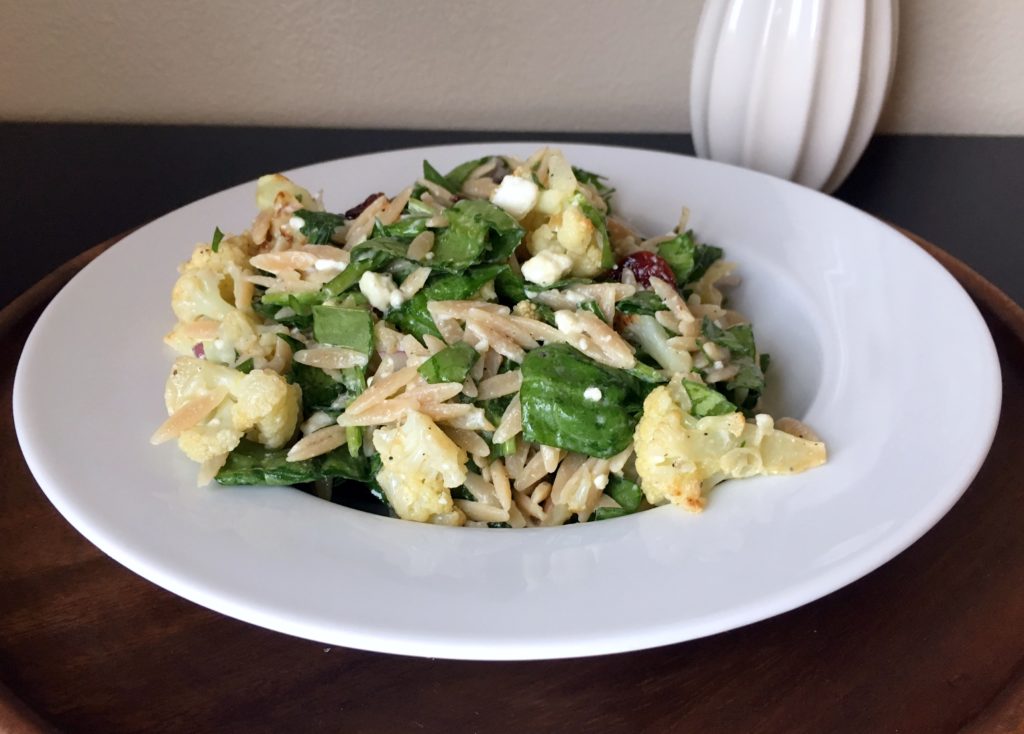 I tried French feta for the first time in this recipe and really recommend it. It's creamier and a bit less pungent than Greek feta- keeps it from overwhelming the other ingredients. If you use Greek feta I would reduce the amount a bit. This so-much-more-than-a-salad will be my go-to for parties and bbq's this summer. It's easy to tote around, tastes great warm or cold or at room temperature, and keeps well for a few days in the fridge.
Roasted Cauliflower, Spinach, and Orzo Salad
INGREDIENTS
Salad:
1 medium head cauliflower, broken into small florets
3 Tbsp. olive oil, divided
3 cloves garlic, minced
1 tsp. kosher salt
1/2 tsp. freshly ground black pepper
1 cup orzo pasta (I use whole wheat orzo)
1/4 cup thinly sliced red onion
3/4 cup crumbled feta cheese (I use Valbreso French feta for a milder flavor, if using Greek feta I would reduce to 1/2 cup)
2/3 cup dried cherries
4 cups baby spinach
Dressing:
3 Tbsp. extra-virgin olive oil
3 Tbsp. fresh lemon juice
1 tsp. honey
1 tsp. Dijon mustard
kosher salt and black pepper, to taste
DIRECTIONS
1. Preheat the oven to 400 degrees F.
2. In a bowl, toss the cauliflower with 2 Tbsp. of the olive oil, the garlic, salt, and pepper. Spread on a large baking sheet and roast until tender and cauliflower is slightly charred, about 20-25 minutes. Let cool and set aside.
3. Meanwhile, in a pot of salted boiling water, cook the orzo until al dente. Drain in colander, rinse under cold water, drain well, and toss with the remaining tablespoon of olive oil.
4. In a large bowl, make the dressing. Whisk together the olive oil, lemon juice, honey, mustard, salt, and pepper. Add the cooked orzo, roasted cauliflower, red onion, crumbled feta cheese, and dried cherries. Toss until well coated with the dressing. Add the spinach and toss one more time. Taste and season with more salt and pepper, if desired. Serve.
(Adapted from Cravings)