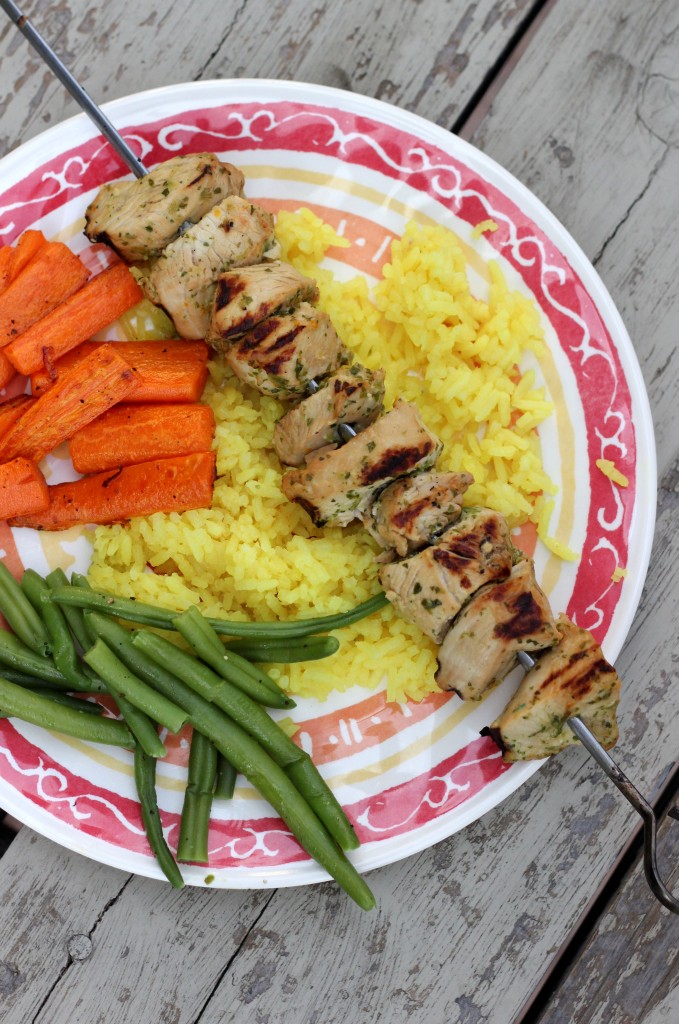 Today two recipes we've enjoyed repeatedly this summer. (I just posted the yellow rice you see pictured here.) Summer might be officially over, but grilling season never ends around here. When it turns cold we're still grilling indoors (with what is probably my favorite kitchen item), but this dish would also work in the oven (instructions found here- note that they used bone-in thighs so adjust accordingly). This chicken (or turkey, I bet pork would as well) is bursting with citrus juice and zest and just the right balance of salty and sweet. Our new favorite.
Citrus Marinated Grilled Chicken
INGREDIENTS
2 lbs. chicken breast (I've also used turkey tenderloin), cut into tenders or cubed for kabobs
small bunch green onions
handful cilantro
2 cloves garlic
1 tsp. lime or lemon zest
1 tsp. orange zest
1/4 cup lime or lemon juice
1/4 cup orange juice
1/4 cup low-sodium soy sauce
2 Tbsp. canola or grapeseed oil
2 tsp. sea salt
freshly ground black pepper
pinch red pepper flakes
2 tsp. honey
DIRECTIONS
1. Pulse onions, cilantro, garlic, citrus zests, citrus juices, soy sauce, oil, salt, peppers, and honey in a food processor or blender until a coarse purée forms. Place marinade in a large resealable plastic bag. Add chicken, seal bag, and turn to coat. Marinate in the refrigerator at least 20 minutes, up to 8 hours.
2. Remove chicken from marinade and discard marinade. Grill until juices run clear (reaches an internal temperature of 165 F). Serve immediately.
Serves 6.
(Adapted from Bon Appetit)