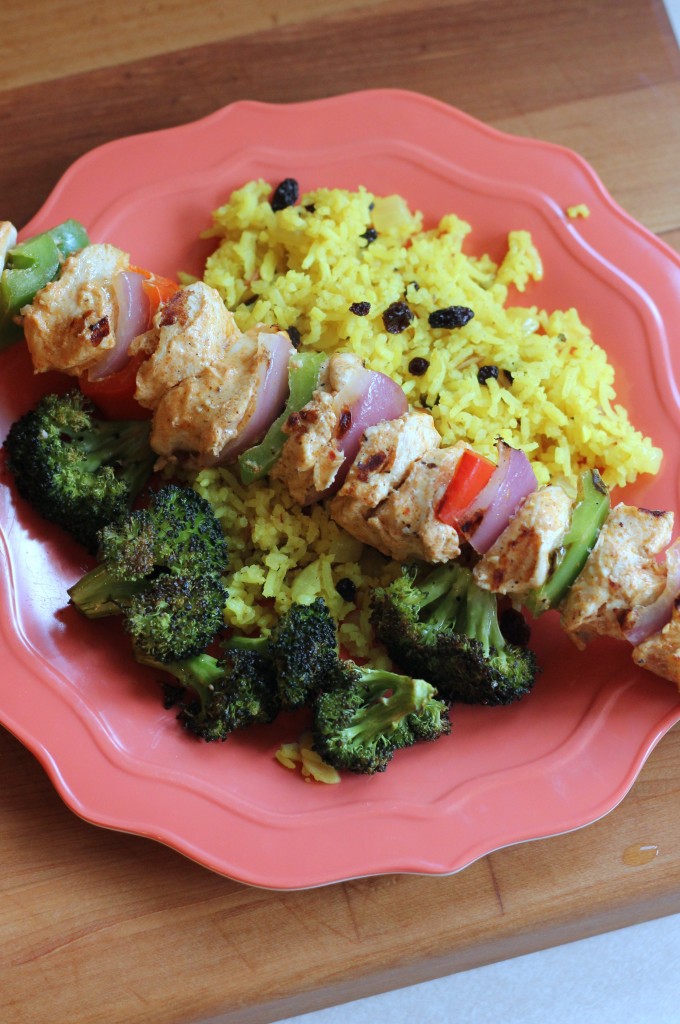 Here's the promised basmati rice recipe to accompany the Middle Eastern Chicken Kebabs. What makes this rice so special? Well, first it's sauteed in a bit of butter, onion, garlic, and spices. And after being simmered until fluffy, you toss in some dried fruit (I chose currants) and golden toasted almonds. Not your ordinary rice. So much better. Pictured with roasted broccoli on the side.
Basmati Rice Pilaf with Currants and Almonds
INGREDIENTS
1 1/2 cups white basmati rice, rinsed
2 Tbsp. unsalted butter
1/2 cup finely chopped yellow onions
1/2 tsp. cumin
1/2 tsp. ground turmeric
1/4 tsp. cinnamon
2 cloves garlic, minced
2 1/4 cups water
1 1/4 tsp. salt
1/4 tsp. freshly ground black pepper
1/3 cup dried fruit, such as currants, raisins or finely chopped dried apricots
1/4 cup sliced or slivered almonds, toasted until golden
DIRECTIONS
1. Melt butter in a pot over medium-low heat. Add onions and cook, stirring regularly, until softened but not browned, about 4 minutes. Add cumin, turmeric, cinnamon, and garlic to sautéed onions and cook until fragrant, about 30 seconds longer. Add rice to pot, and cook, stirring constantly, for about 3 minutes. Add water, salt and pepper to rice and return to a boil. Reduce heat to low, cover, and simmer until all liquid is absorbed, 15-18 minutes. Off heat, remove lid, and sprinkle dried fruit over rice (do not mix in). Place lid loosely over pot and let stand 10 minutes. Toss in toasted almonds, fluff rice with a fork, then serve.
Serves 6.
(Adapted from Once Upon a Chef)