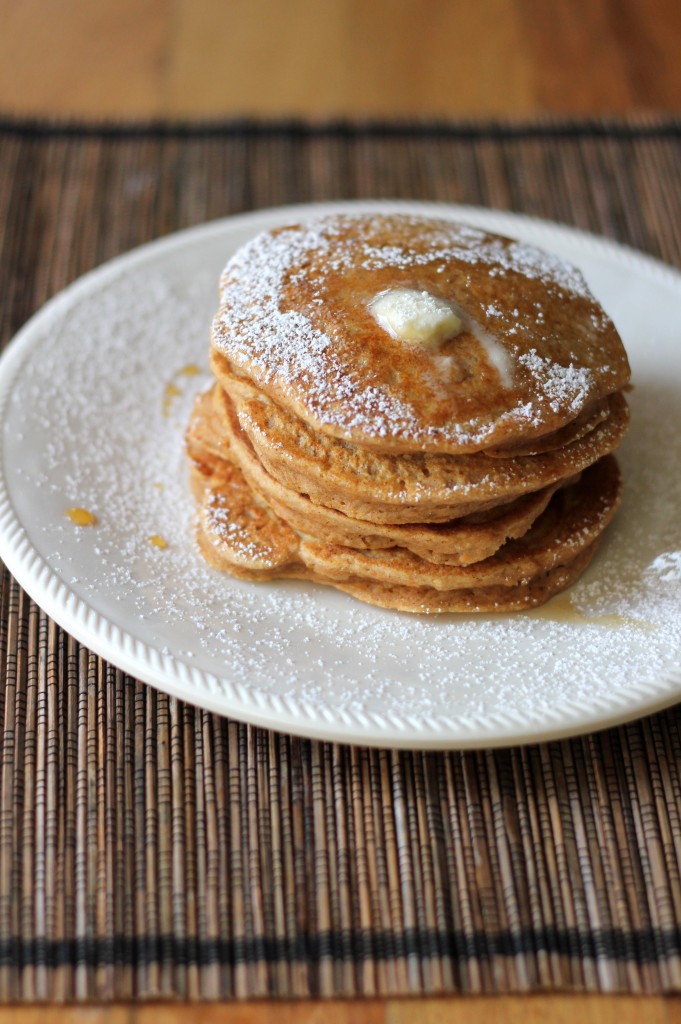 Clara and I took a trip to Virginia last week to visit my parents. I always love going home. But especially in the fall when the lush green landscape turns colorful. Clara loves having her grandparents' attention, a cat to stalk, and a large home with a basement full of new toys to entertain her. And my mom and I have an unspoken arrangement where I cook most of the meals (not her favorite task) while she plays with Clara. We all get a break and get to do what we love most.
We had planned to make it into DC early before I flew out for some famous blueberry buckwheat pancakes at the Eastern Market (a must try if you're in the city). But instead we were exhausted (was the morning after trick-or-treating, after all) and slept in ('til 7:30 which is exciting for us) and made breakfast ourselves: scrambled eggs with chives and Canadian bacon and a stack of pumpkin pancakes with maple syrup. Today's recipe I actually made before our trip. It's a riff on my spiced pumpkin pancakes that uses sweet potato instead. I actually think I like these more. They're easily dairy-free if you use almond milk and coconut oil. And still delicious frozen and re-warmed in the toaster over the next few days.
p.s. Have you tried Trader Joes Pumpkin Cream Cheese Spread? It's amazing on just about anything- including these pancakes.
Sweet Potato Pancakes
INGREDIENTS
1 1/4 cups white whole wheat flour
1 1/2 tsp. baking powder
1/4 tsp. salt
1 tsp. cinnamon
1/4 tsp. nutmeg
1/4 tsp. ginger
pinch of cloves
1 1/4 cups unsweetened almond milk or milk or buttermilk, etc.
1 large egg
1 Tbsp. melted butter or coconut oil
1 Tbsp. pure maple syrup
1 tsp. pure vanilla extract
3/4 cup mashed, cooked sweet potato (about 2 medium sweet potatoes)
DIRECTIONS
1. In a large bowl, whisk together the flour, baking powder, salt and spices. In a medium bowl, combine the almond milk, egg, coconut oil, maple syrup, vanilla, and mashed sweet potato until smooth. Add wet ingredients to dry ingredients and mix until just combined. Batter will be thick, however if it is way too thick add in a tablespoon or two of milk.
2. Lightly coat a large nonstick skillet or griddle with butter or cooking spray and heat over medium. Drop batter by 1/4 cup onto skillet. Cook until bubbles appear on top, about 2 minutes. Flip cakes and cook until golden brown on underside, about 2 minutes. Wipe skillet clean and repeat with more melted butter and remaining batter.
(Adapted from Ambitious Kitchen)
Makes about 10 pancakes.