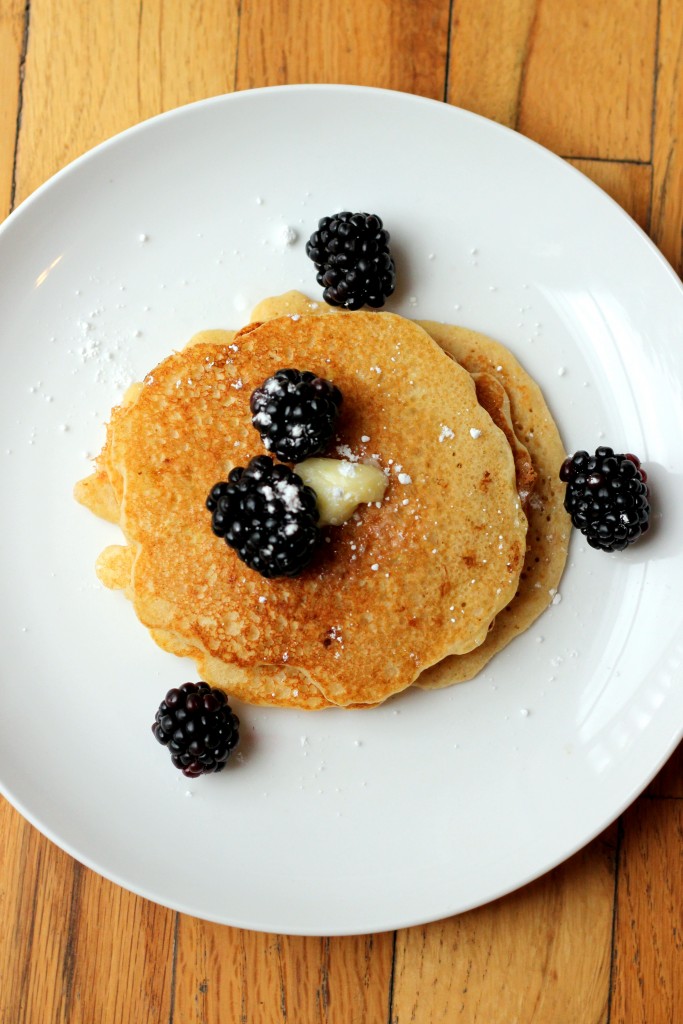 Another recipe we made repeatedly this summer and I'm late sharing. These pancakes (you could probably call them corn cakes, they're pretty much the same thing) were a bit hit with Dustin and Clara. We had them for both breakfast and dinner with butter and maple syrup (or honey) and berries. I'd love to try a savory version that incorporates some cheese and chives, with a fried egg sitting on top. And in case you don't eat them all at once, pop them in the freezer and reheat at will.
Sweet Corn Pancakes
INGREDIENTS
2 Tbsp. butter
3/4- 1 cup corn kernels (from about 1 large ear fresh corn)
1/8 tsp. salt + additional for seasoning corn
1 large egg
1 1/4 cups buttermilk
1/4 tsp. pure vanilla extract
1 Tbsp. sugar
3/4 cup all-purpose flour (I used half white whole wheat and half all-purpose flour)
1/4 cup cornmeal
1 tsp. baking powder
1/2 tsp. baking soda
DIRECTIONS
1. Melt butter in a large cast iron skillet or griddle pan over medium heat. Add corn and saute for 4 to 5 minutes, until it begins to brown ever-so-slightly. Sprinkle with salt and set aside to cool. Wipe out skillet.
2. Lightly beat egg in the bottom of a large bowl, then whisk in buttermilk, corn, vanilla and sugar. In a smaller bowl, whisk flour, cornmeal, baking powder, baking soda and 1/8 tsp. salt. Stir dry ingredients into wet, mixing until just combined but still lumpy in appearance.
3. Reheat your skillet or saute pan to medium heat. Brush the pan with butter and ladle 1/4 cup batter at a time, 2 inches apart. When the pancakes have bubbles on top and are slightly dry around the edges, flip them over and cook them until golden brown underneath. If they seem to be cooking too quickly (dark on the outside, raw centers) turn your heat down to low for the next batch and inch it up as needed. Repeat with remaining batter, and serve immediately with a pat of butter and a healthy dose of maple syrup.
Serves 3-4.
(Adapted from Smitten Kitchen)