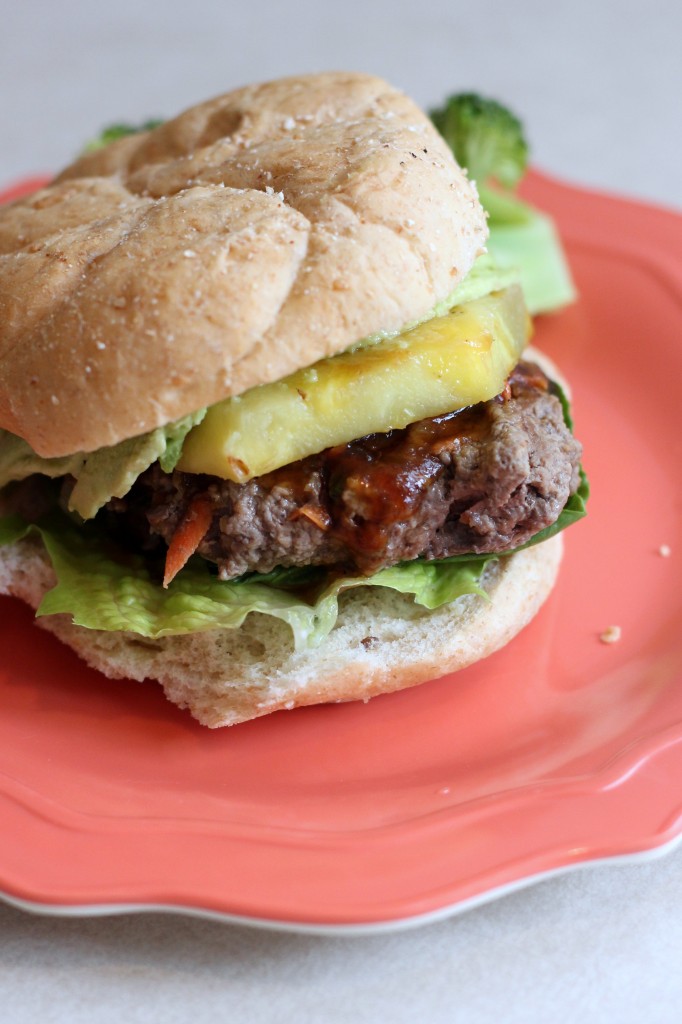 Teriyaki is one of those foods that gagged me as a kid. For whatever reason, I couldn't handle the smell of whatever brand sauce my mom loved using to make her stir fry and so I assumed forever hatred of all things teriyaki. Well… my taste has matured in the last decade and let's say I take it back. I love a good bowl of rice topped with teriyaki chicken, salmon, or veggies (one of my favorite dinners from Whole Foods). And pineapple teriyaki sauce with grilled pineapple and avocado on top of a burger- yes, please!
This recipe makes quite a bit of that yummy teriyaki sauce so I froze the remainder and a month later made the burgers again- sauce all ready to go! I'm sure ground chicken or turkey (thigh meat for a juicy/rich burger) would be excellent substitutions.
Hawaiian Teriyaki Burger
INGREDIENTS
burgers:
1 lb. lean ground beef (or ground turkey or chicken)
1/4 cup grated carrots
1/4 cup chopped scallions
1/2 tsp. fresh grated ginger
1 1/2 tsp. low-sodium soy sauce
1/2 tsp. sriracha sauce (or more if you like it spicy)
4 slices fresh pineapple
8 whole wheat hamburger buns
8 lettuce leaves (Bibb if my favorite)
sliced avocado
pineapple teriyaki sauce:*
1 1/2 tsp. cornstarch
1/4 cup cold water
1/4 cup low-sodium soy sauce
1/2 cup pineapple juice
3 Tbsp. brown sugar
1/2 tsp. fresh grated ginger
1 small clove garlic, minced
DIRECTIONS
1. To make the sauce: Combine the cornstarch in cold water and dissolve. Set aside to thicken. In a small saucepan, mix soy sauce, pineapple juice, brown sugar, grated ginger and garlic over medium heat. Bring to a boil and simmer until sauce reduces, about 15 to 20 minutes. Add cornstarch and water mixture, simmer until thick, about 5 minutes. Remove from heat and set aside to cool.
*Makes enough sauce for approx. 8 burgers. Leftover sauce can be frozen for later use.
2. To make the burgers: Combine the ground beef with grated carrots, scallions, jalapeno pepper, ginger, soy sauce and sriracha sauce. Mix throughout but don't overwork the mixture so the patties don't get tough. Form 4 equal sized patties.
3. Preheat outdoor grill or indoor grill pan to medium-high heat. Place the patties on the hot grill and cook until they reach desired doneness, grilling the pineapple next to the patties during the last 5 minutes or so. Optionally, you could brush a little teriyaki sauce on the pineapple slices as they grill.
4. To serve, place a piece of lettuce on the bottom of each burger bun. Top with the cooked burger, teriyaki sauce, avocado, and grilled pineapple.
Makes 4 burgers.
(Adapted from Skinnytaste)