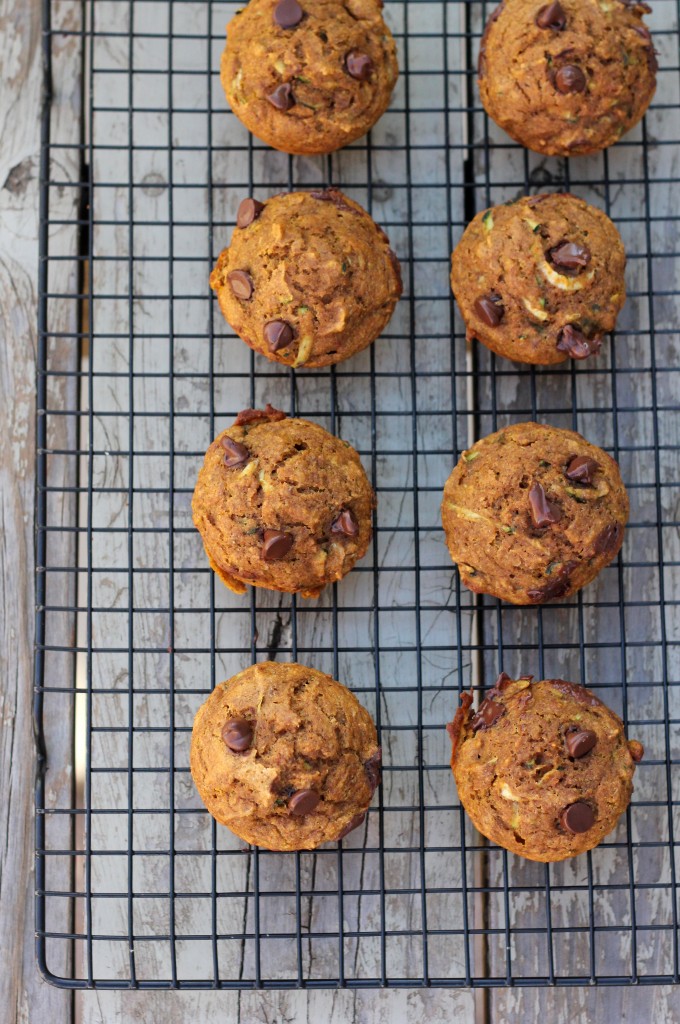 Pumpkin season it is so pumpkin muffins I bake. Clara and I have been devouring these spiced pumpkin and zucchini filled muffins all week. As usual, they're whole wheat and minimally sweetened with honey (and chocolate chips if you wish- I just tossed a few on top as a treat). And they're easily made dairy-free by using coconut oil and almond milk (I tested them this way).
Pumpkin Zucchini Muffins
INGREDIENTS
1 1/2 cups white whole wheat flour (I replaced 1/4 cup flour with ground flaxseed)
1 tsp. baking soda
1/4 tsp. salt
2 tsp. cinnamon
pinch of nutmeg
pinch of cloves
pinch of ginger
3/4 cup canned pumpkin
1 cup shredded zucchini, squeezed of excess moisture
1/3 cup honey
1 Tbsp. olive or coconut oil
1 egg
1 tsp. pure vanilla extract
1/2 cup milk or unsweetened almond milk
1/2 cup chocolate chips (I just sprinkled a few on top)
DIRECTIONS
1. Preheat oven to 350 F. Grease a 12 cup muffins pan with cooking spray.
2. In a large bowl, whisk together flour, baking soda, salt, cinnamon, nutmeg, cloves, and ginger.
3. In a separate large bowl combine pumpkin, zucchini, honey, oil, egg, and vanilla until well combined and smooth. Whisk in almond milk. Add wet ingredients to dry ingredients and mix until just combined. Gently fold in chocolate chips (if using), reserving a few for sprinkling on top.
4. Bake in preheated oven for about 18 minutes, until a toothpick inserted into the center of a muffin comes out clean. Cool on wire rack for several minutes before removing muffins from the pan to the wire rack to finish cooling.
Makes 12 muffins.
(Adapted from Ambitious Kitchen)