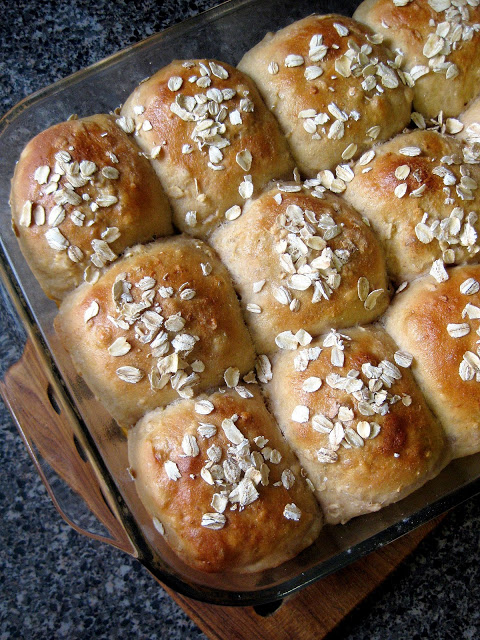 Usually for Christmas and other holidays we bake batches of my mom's buttery sweet crescent dough or fluffy white rolls of some sort. This year I tried something a littler… healthier. Rolls with whole wheat and oats. Since this was my first go at adapting a new recipe, I used a bit of all-purpose flour to ensure a lighter texture and higher rise. So they're more like 80% whole wheat. I think my whole family was pleasantly surprised at how good whole grains can be. They're soft, chewy, and naturally sweet. Excellent with a Christmas ham and potatoes or piled high with leftover turkey.
Oatmeal Honey Whole Wheat Rolls
INGREDIENTS
2 cups water, divided
1 cup old-fashioned oats
3 Tbsp. butter
1 Tbsp. active dry yeast
1/3 cup honey
1 1/2 tsp. salt
1 cup all-purpose flour
3-3 1/2 cups white whole wheat flour
1 egg + 1 Tbsp. water, whisked for egg wash
old-fashioned oats, for sprinkling
DIRECTIONS
1. In a small saucepan, bring 1 cup water to a boil; add oats and butter. Cook and stir for 1 minute. Remove from the heat; cool to lukewarm.
2. In a large bowl, dissolve honey and yeast in warm water. Add the cooled oat mixture, salt and all-purpose flour; beat until smooth. Slowly add the whole wheat flour to form a soft dough.
3. Turn onto a floured surface; knead until smooth and elastic, about 6-8 minutes, adding more whole wheat flour as necessary. Place in a lightly greased bowl. Cover and let rise in a warm place until doubled, 1-2 hours.
4. Punch dough down; allow to rest for 10 minutes. Shape into 15-18 balls. Place in two greased 9-in. round baking pans (or a 9×13 pan). Cover and let rise until doubled, about 45 minutes. Just before baking, brush tops with egg wash and sprinkle with oats.
5. Bake at 350 F for 20-25 minutes or until golden brown. Remove from pan to cool on wire racks.
Makes 15-18 rolls.
(Adapted from Taste of Home)